A Devon Tour Guide's Eight Favourite Cream Tea Haunts
It's National Cream Tea Day today, so what better way to celebrate than publishing an update of my cream tea blog (other than having a Devonshire cream tea, of course!).
One of the great pleasures of being a Devon tour guide is that I have a very wide variety of quintessentially local things to introduce my guests to, especially if they haven't been to the county before. We really are spoilt for choice in Devon, like no other county in England, when it comes to reasons for why the county is unique. For instance, we have Dartmoor National Park, with its Dartmoor ponies, its granite Tors, its letterboxes and its incredible amount of Bronze Age remains, more than in any other area of the UK. Then there are Devon's lanes, ancient and high sided, that cause my overseas guests any amount of anxiety, especially when they realise that they are not one way! Devon is the only county in England with two coastlines, and they are both beautiful as well. And then we have something that can only ever be done properly in Devon, and that is the Devonshire cream tea!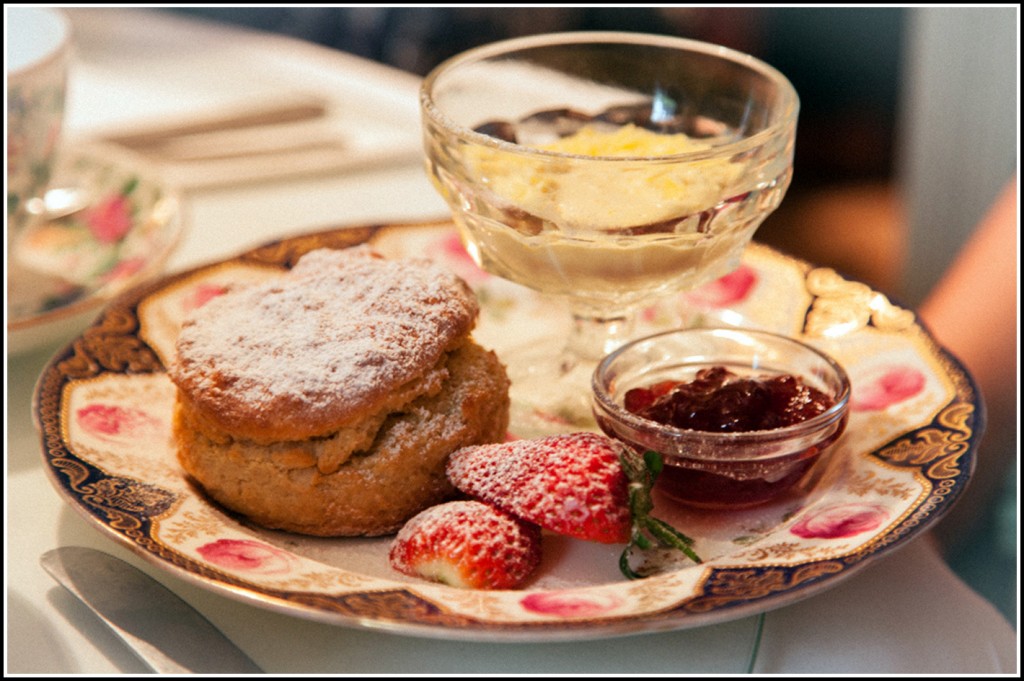 A traditional Devonshire cream tea…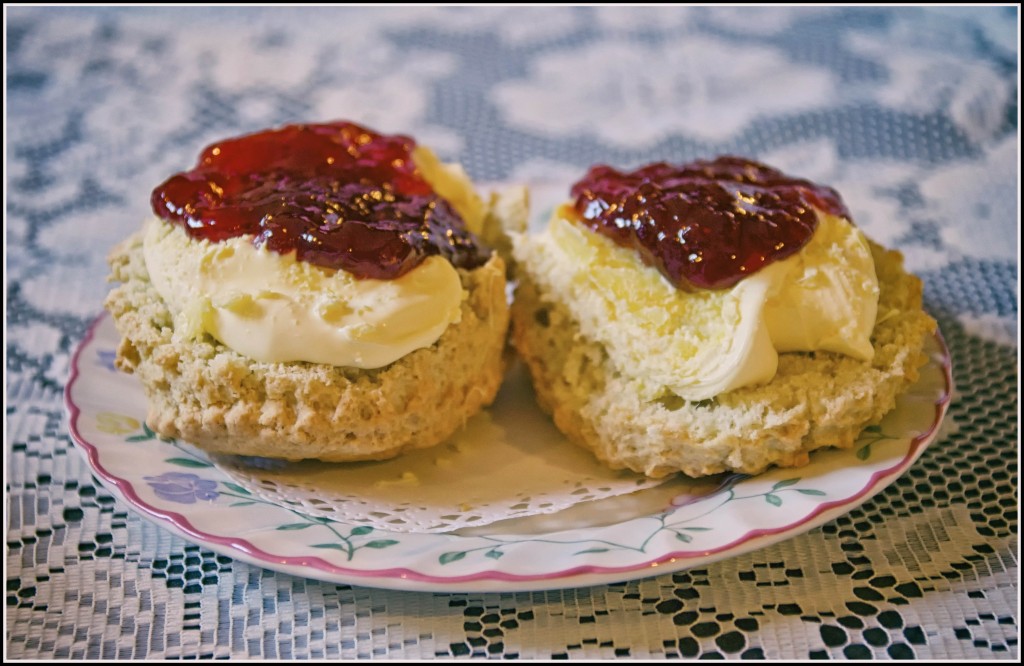 …with cream first, then the jam!
When starting my business, I realised that I had to play on the many strengths of Devon, so taking my guests for a Devonshire cream tea is a must whenever I can. The first thing that sometimes happens is that I have to explain what one is. They may or may not have heard of a 'cream tea', but of course the name itself doesn't actually tell you that, apart from tea and cream, it also consists of scones and jam, so sometimes my guests think that it's literally just a cup of tea with cream poured into it! Then when we get presented with the cream tea itself, the challenge of what to do with it arises. I explain that traditionally, the scone is sliced horizontally in two, then a big spoon of clotted cream is dolloped on, followed by copious amounts of jam. This is the way we do it in Devon, and the correct way too. In neighbouring counties they have other ideas, not to mention any names!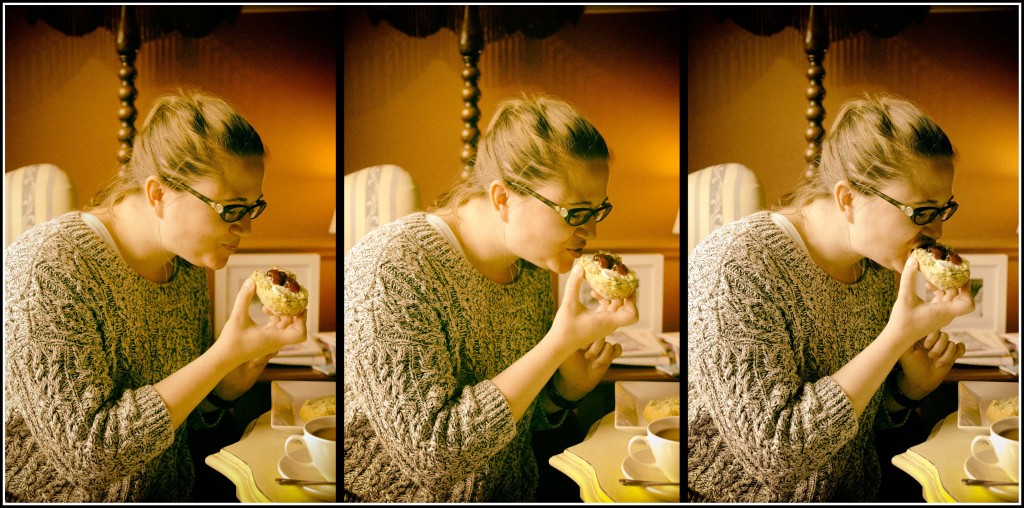 A guest taking her first ever taste of a Devonshire cream tea
So, putting the joy of the cream tea to one side, where do I take my guests to enjoy this Devon phenomenon? Well, I have used several places in the time I've been offering guided tours, and I have eight reliable and consistently good favourites. There are, of course, multiple places that I haven't visited with my guests, so this list is not as well researched as many people's, but I feel I can safely vouch for these places as very well worth trying. Here goes (in no particular order):
1. Tea at Taylors, Ashburton (website)
'Quintessentially English' is how I would describe this charming and traditional tearoom in Ashburton. Before one even enters, the flavour of the place is evident, with its bay window and home made cakes, beautifully displayed on their individual stands. On entering, a sense of calm descends, and the warm greeting from the member of staff on duty beckons one to sit and relax. The decor is that of an old antique shop, which in fact Tea at Taylors was, so the furniture, wall hangings and china are all old and individual.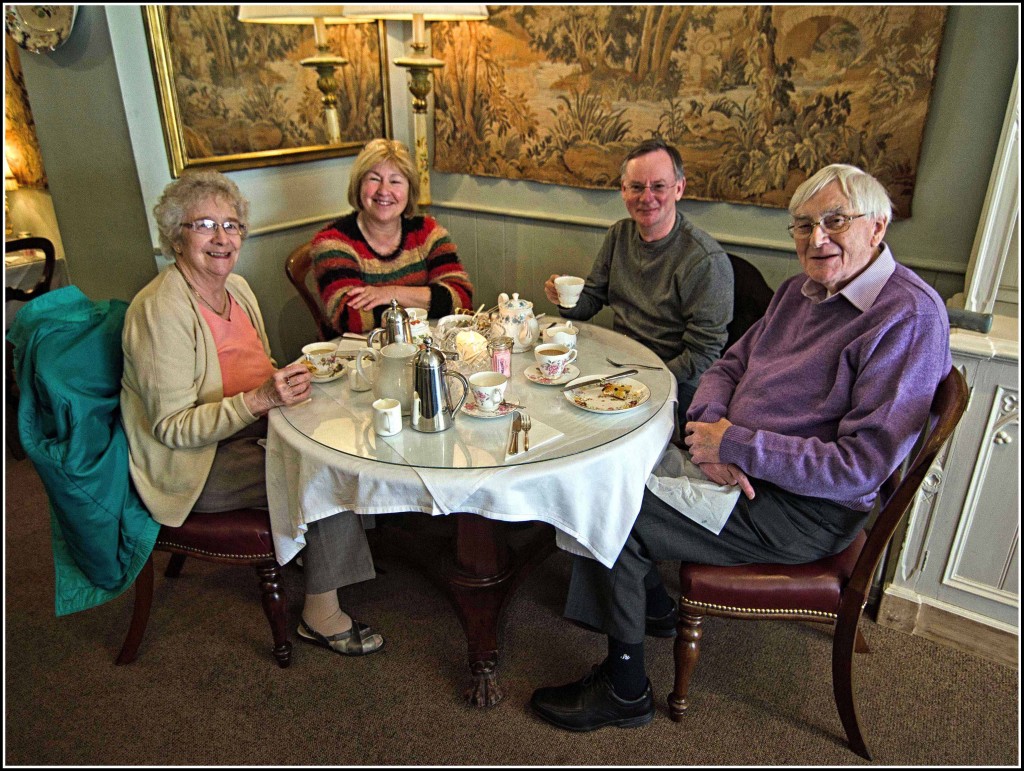 Guests enjoying the traditional Tea At Taylors in Ashburton
The menu offers three pages of different teas (my favourite is the highly flavoursome Darjeeling), as well as an array of other hot and cold drinks. The cakes are wonderful, including the famous carrot cake, which Mary Berry first tasted here, then asked for the recipe so she could use it in one of her cook books under the title 'Ashburton Carrot Cake'. As for the cream teas, well, I've seen many an overseas guest fall in love at first sight, as the tray with perfectly presented cream teas appears. If you happen to be in the area, Ashburton itself is a very appealing town to visit, made all the more so by a visit to Tea at Taylors.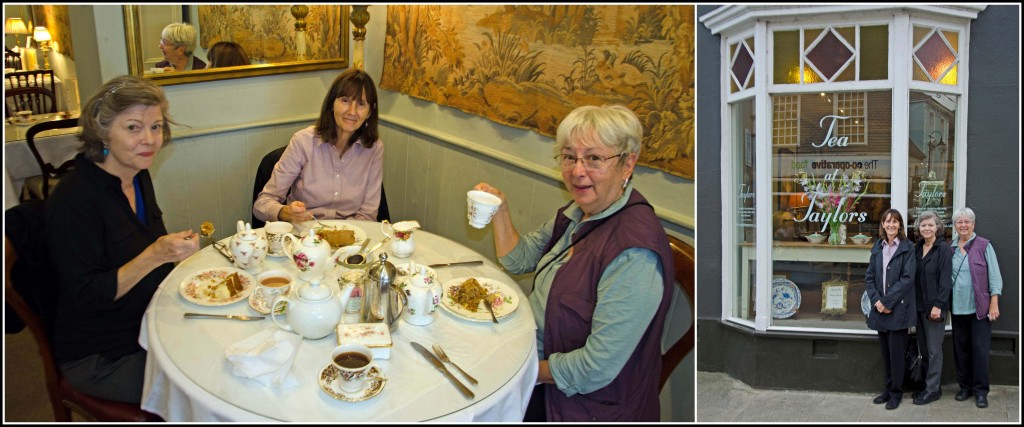 Guests tasting Tea At Taylor's carrot cake, which Mary Berry has adopted, naming it 'Ashburton Carrot Cake'
2. The Two Bridges Hotel, near Princetown (website)
The Two Bridges Hotel is one that most local people will know, thanks to its excellent position on Dartmoor, where anyone driving across the National Park will more than likely go past the hotel during their journey. During my first year or so of being a tour guide I didn't go in there often, since I assumed that such a well positioned establishment would not be quite the right place for my guests – I generally try to find places that are a bit off the beaten track.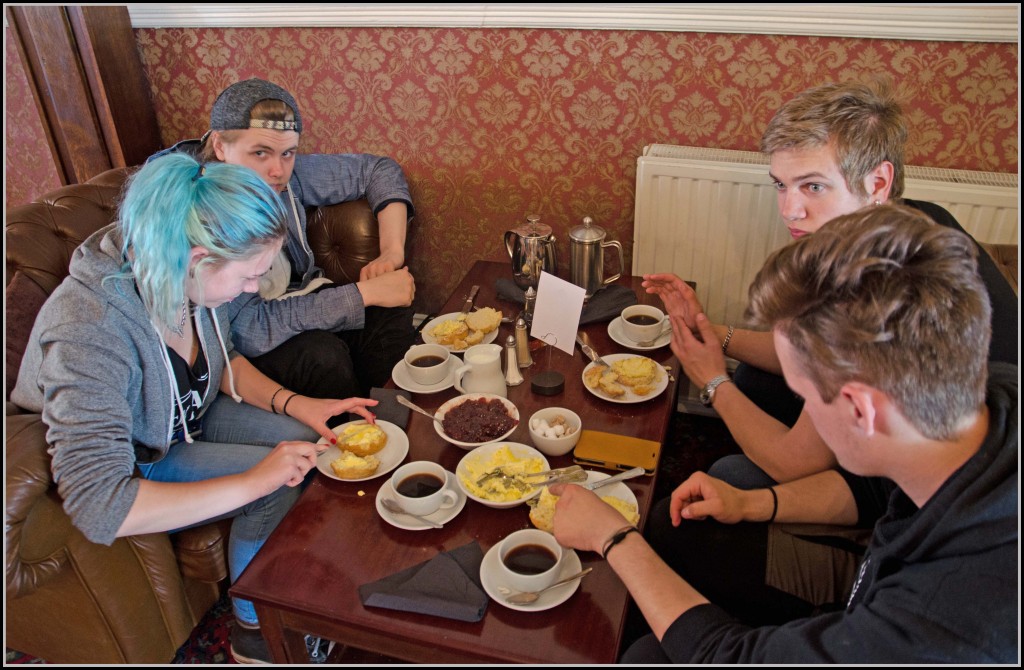 Swedish guests enjoying a Two Bridges cream tea
However, more and more I use The Two Bridges Hotel, sometimes for lunch, and more often for a tea time stop, and of course, my guests often choose to have a Devonshire cream tea. The cream teas here are excellent, with the scones perfectly baked, and a very decent size too. My guests appreciate the decor of the hotel, with the characterful lounges and comfy seating instantly putting them at ease. The staff are very friendly and accommodating, and a stop here for a cream tea is a perfect way to end a day on Dartmoor.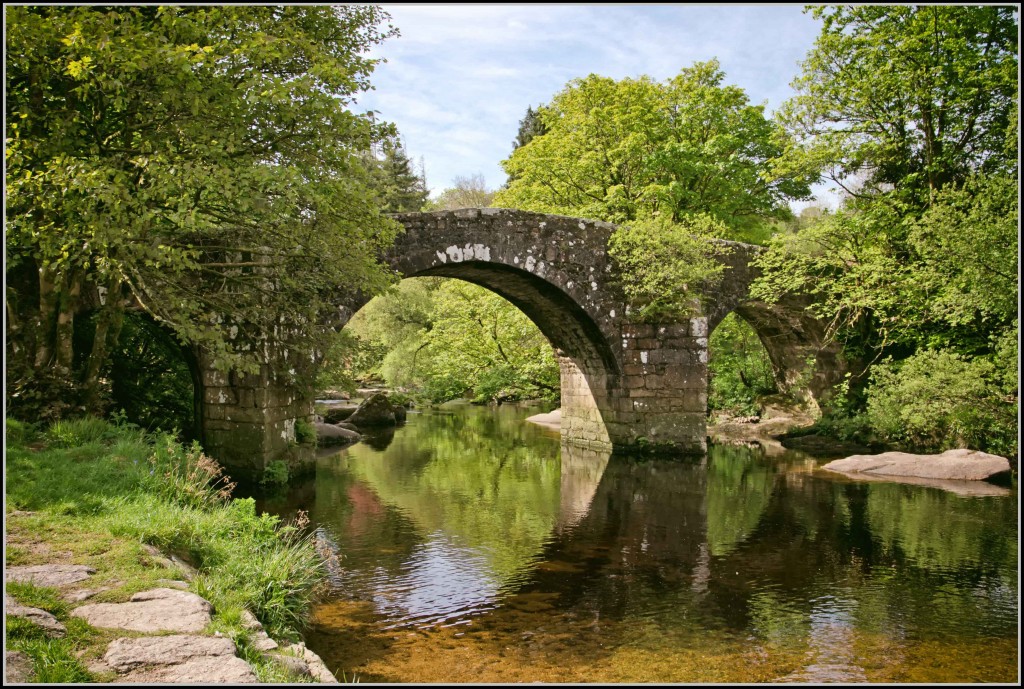 One of Dartmoor's beautiful bridges, not far from The Two Bridges Hotel
3. Stokeley Farm Shop, near Torcross (website)
I love good, independent farm shops. I think they represent perfectly everything that is great about fresh, local produce, and they're definitely places that I like to take my guests to. Stokeley is one of those, and certainly fits very well in this cream tea article, as my review on Tripadvisor reflected a couple of years ago:
We went here with no expectation as we'd only been in once a few years ago for some vegetables from the shop. In fact, today we were on our way to another cream tea place, when it became apparent that we weren't going to get to that place before it closed. So we ended up in Stokeley!
From the word go the young lady behind the counter was very welcoming and hospitable. Her customer service skills were spot on. The cream teas that we ordered were immense in size and quality – two good sized scones and dishes of jam and cream with good quality tea for a total of £4.50! Wow! I visit a lot of cream tea 'places' in this area in my work, and this was definitely the best value, by far. Great produce at a great price, served with a smile and in a nice environment – top marks! My American guests loved it.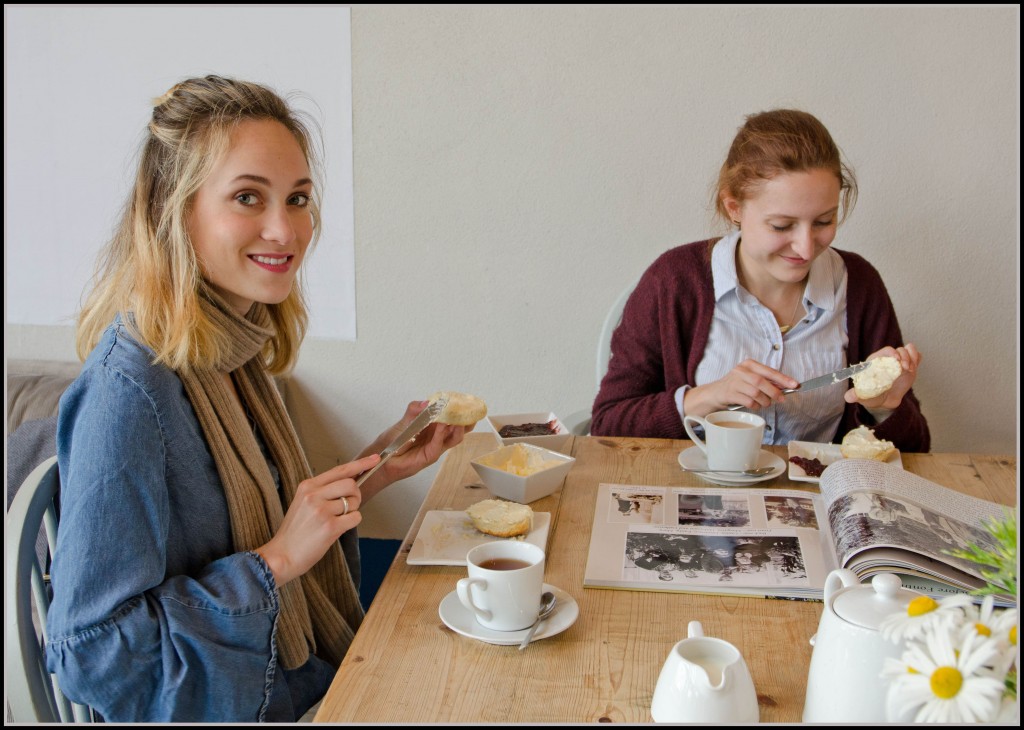 US guests tasting (and loving!) their first cream tea at Stokeley Farm Shop cafe – cream first, of course!
Update: I'm glad to report that the cream teas at Stokeley are still excellent. The price has changed, in that it is now an extremely affordable £3.80 for a cream tea with one scone, which is often enough for most people, and there is always the option to buy a second (or a third!). And Stokeley also has the benefit in being in the midst of beautiful South Devon, giving guests there the chance to explore amazing coastal paths, beaches, lanes and villages, either before or after their cream tea.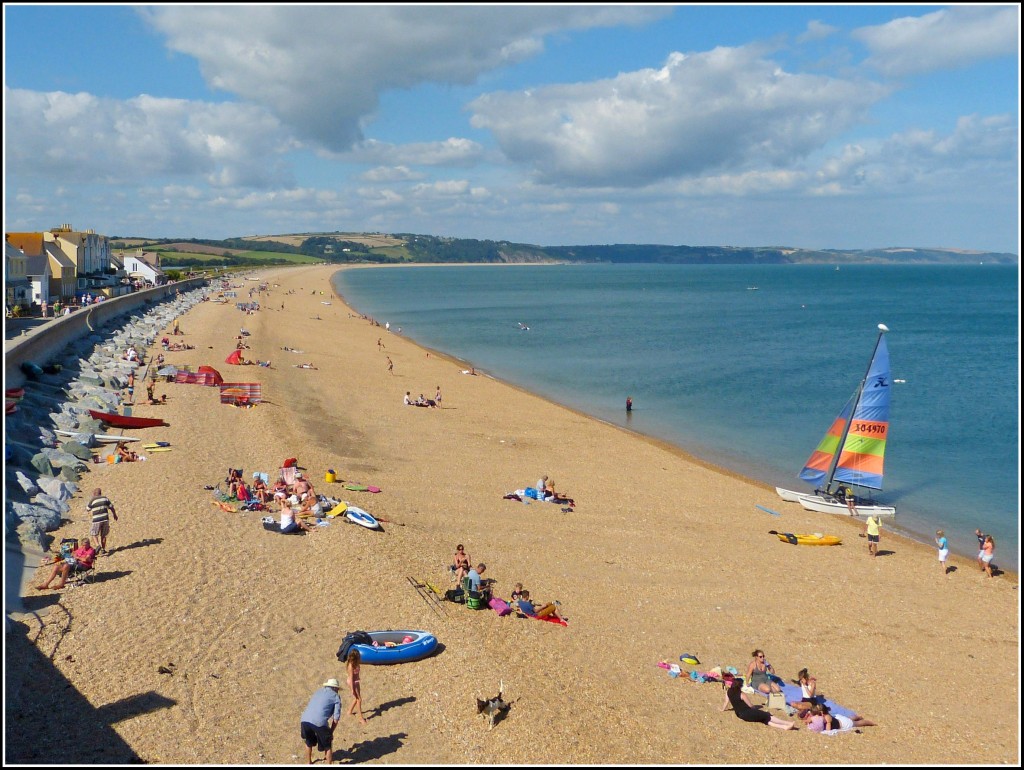 Less than a mile from Stokeley Farm Shop is the beautiful Slapton Sands
4. Prince Hall Hotel, near Princetown (website)
I discovered Prince Hall only once I became a tour guide. My instinct told me that it was worth taking the plunge, so I headed up the long drive that runs between a majestic avenue of trees to investigate this hidden away Dartmoor hotel.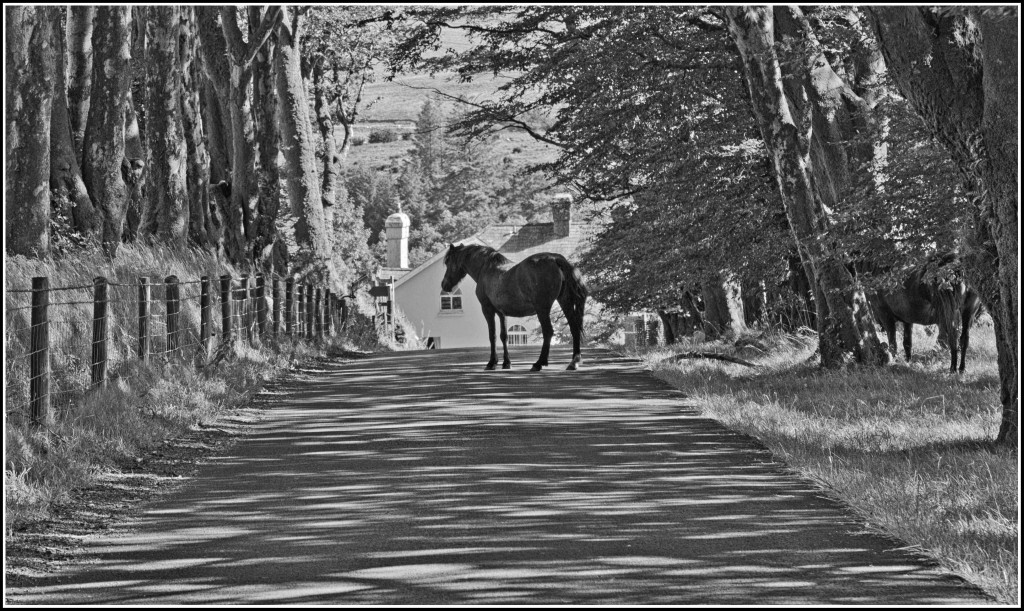 A Dartmoor Pony on the driveway to Prince Hall Hotel
I was treated to a very pleasant surprise, as a friendly greeting and wonderfully relaxed atmosphere greeted me. I have become accustomed to taking my guests here for both lunches and cream teas, although great difficulty comes when trying to encourage them to move from the comfort of the cosy living room, with its deep sofas and real log fire. After all, we're meant to be on tour and going places!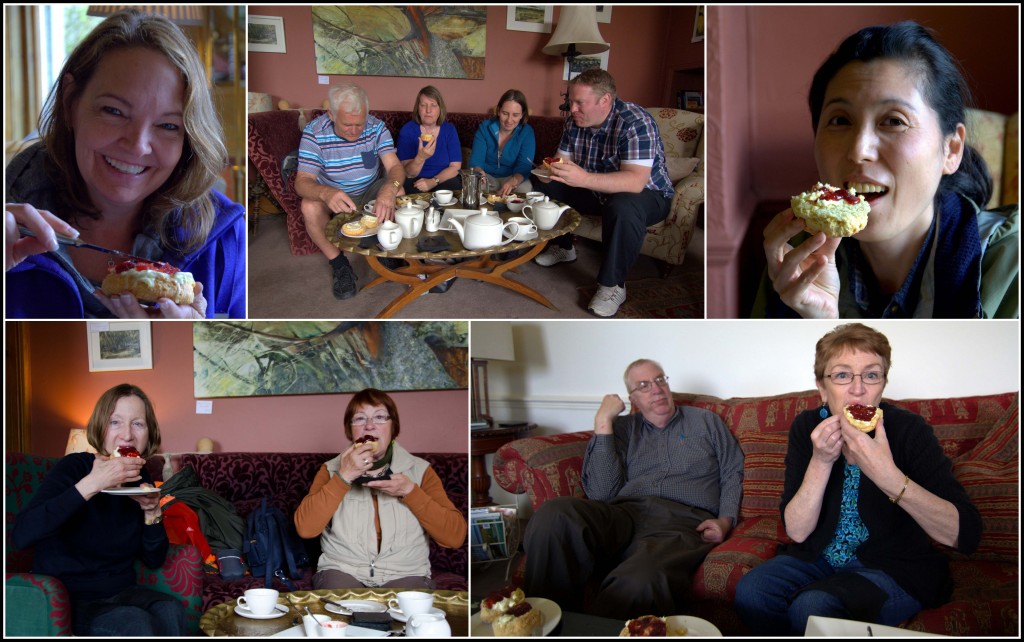 Devonshire cream teas at Prince Hall Hotel are a favourite with my guests!
The cream tea here is superb. The scones are immense, being freshly baked and of perfect consistency, and quite often defeat my guests. If you are reading this and live locally, I implore you to try out Prince Hall for a cream tea. Just don't plan to leave quickly, and don't plan for a big dinner later on.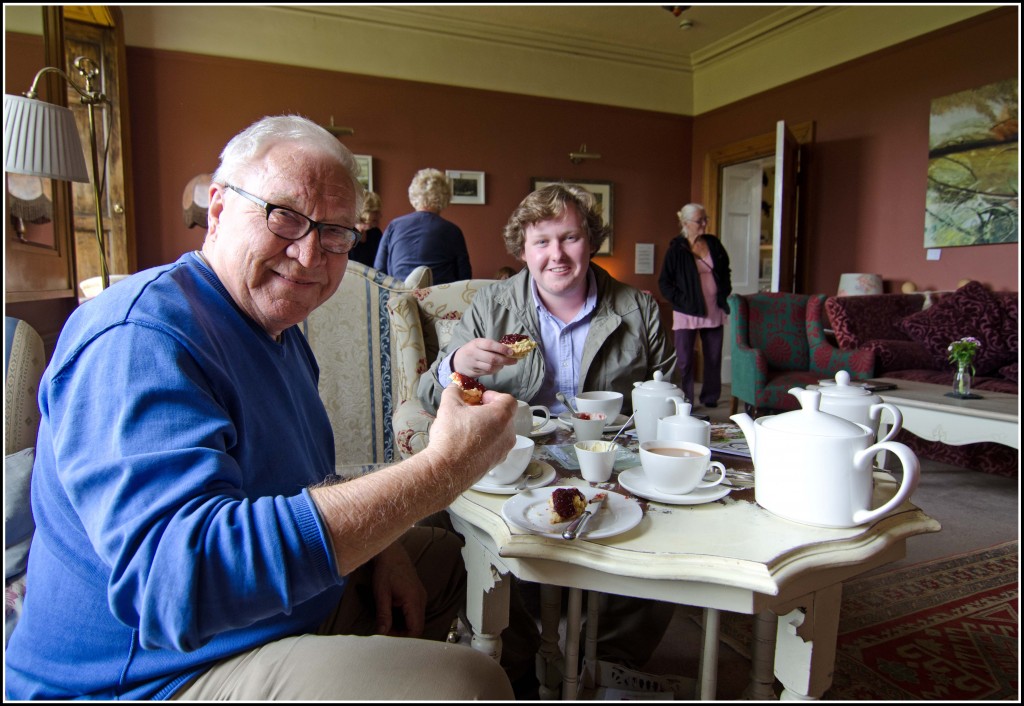 You'll be happiest if you don't have a five course dinner after a Devonshire cream tea!
5. Glazebrook House Hotel, near South Brent (website)
I like Glazebrook House Hotel very much, and if you haven't visited it yourself, then I feel that you've certainly missed out. I've been lucky enough to have both breakfast, tea and dinner here, and on each occasion the food has been faultless – in fact, I had the best steak that I've ever tasted here, and it was cooked 'rare' (I am a steak heathen that normally likes it pretty well cooked!). The food is absolutely amazing.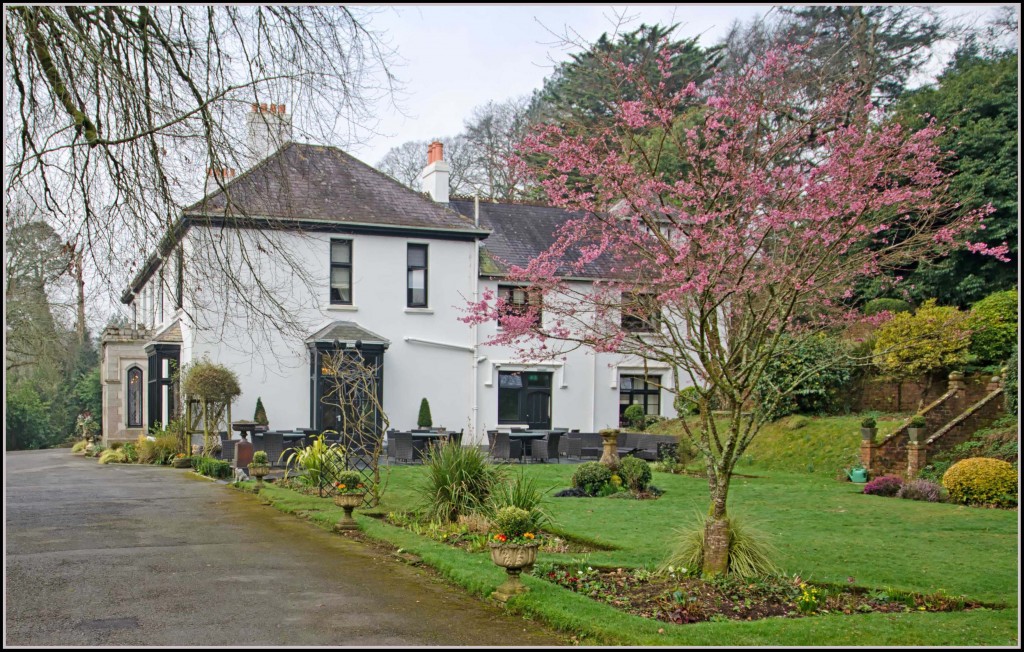 Glazebrook House Hotel in February
But Glazebrook is far more than just a place that serves exquisite food. The overall experience that one gets as a guest of this place is quite simply fantastic. They have a similar ethos to the one that I have, which is to always go beyond the extra mile to ensure that their guests are happy. Hence, the staff are all very appropriately friendly, and can not do enough for you. The decor and furnishings are thought provoking and intriguing, but neither brash nor ugly (there are talking points everywhere!), and the whole mood of the hotel is one of the ultimate home from home experience. Thankfully, they also happen to serve up excellent Devonshire cream teas, as I have discovered when taking guests there. You may well have heard of Glazebrook – now go and try it, as you really won't regret it!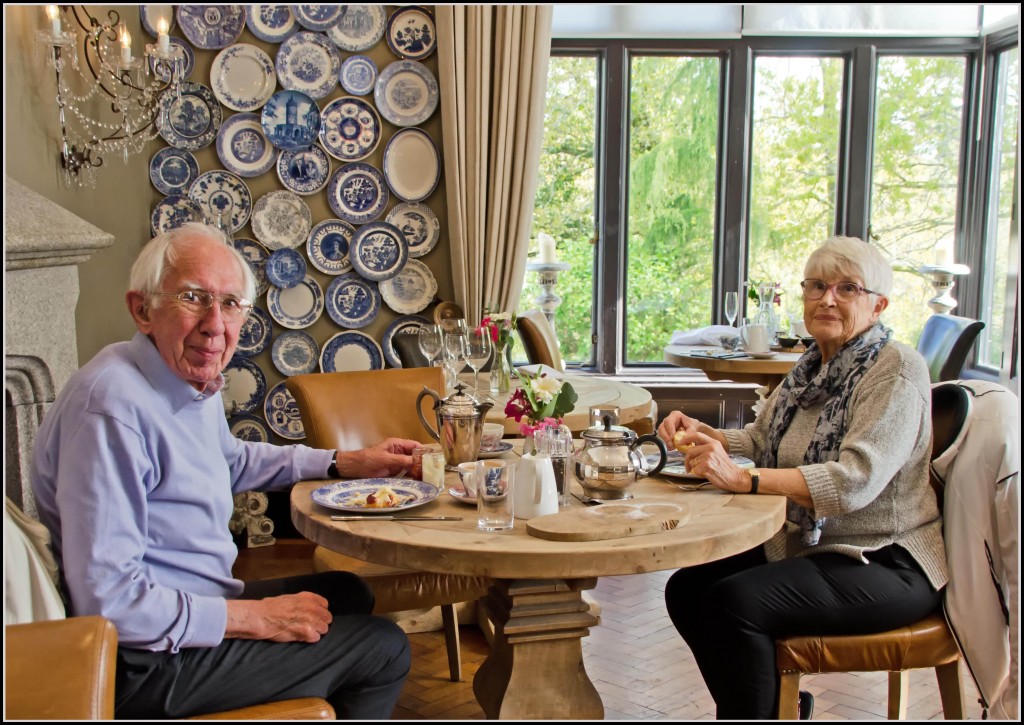 A Devonshire cream tea in the imaginative surrounds of Glazebrook House Hotel
6. Ullacombe Farm Cafe, near Bovey Tracey (website)
I have to confess, I've only visited Ullacombe once, but it was such a good experience that I can't help but include it in this list. I actually brought a group of six guests here, all of whom had actually had Devonshire cream teas before. This doesn't tend to diminish the pleasure of this delightful tradition! Ullacombe is located just a mile or so down the hill from Dartmoor's most iconic tor, Haytor, so is very well situated whether just heading up to the Moors, or on one's way off them (namely at tea time, when a cream tea is best).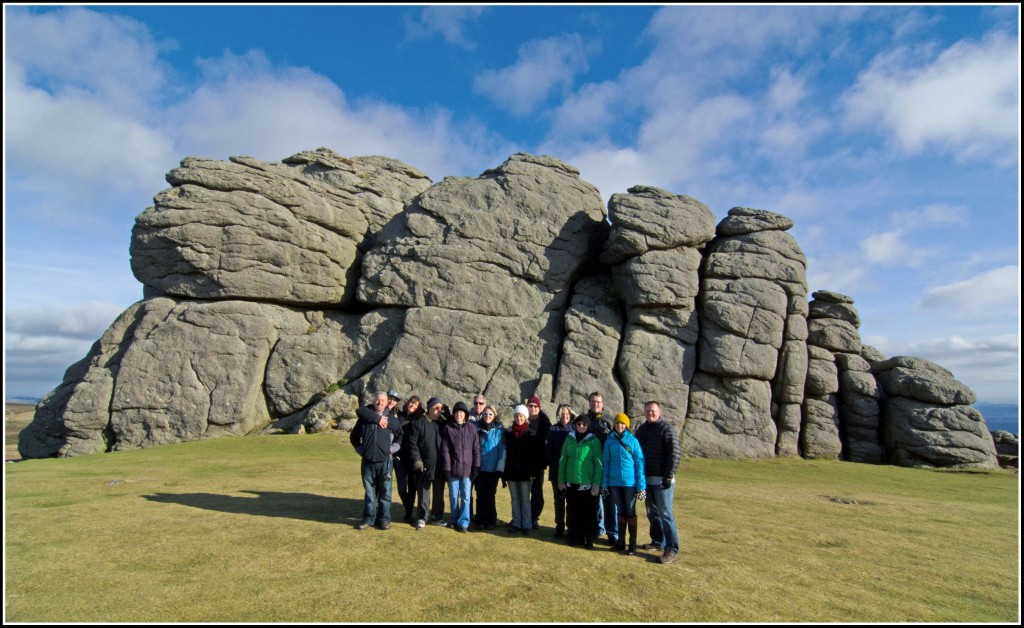 Haytor, just up the road from Ullacombe Farm Cafe
The quality of the scones was very high (the best cream teas have the best ingredients), something that all of my guests commented on. It was also a lovely, sunny day, so we sat outside and chatted, nearly forgetting that I had to return my guests to their accommodation at the end of another great Unique Devon tour!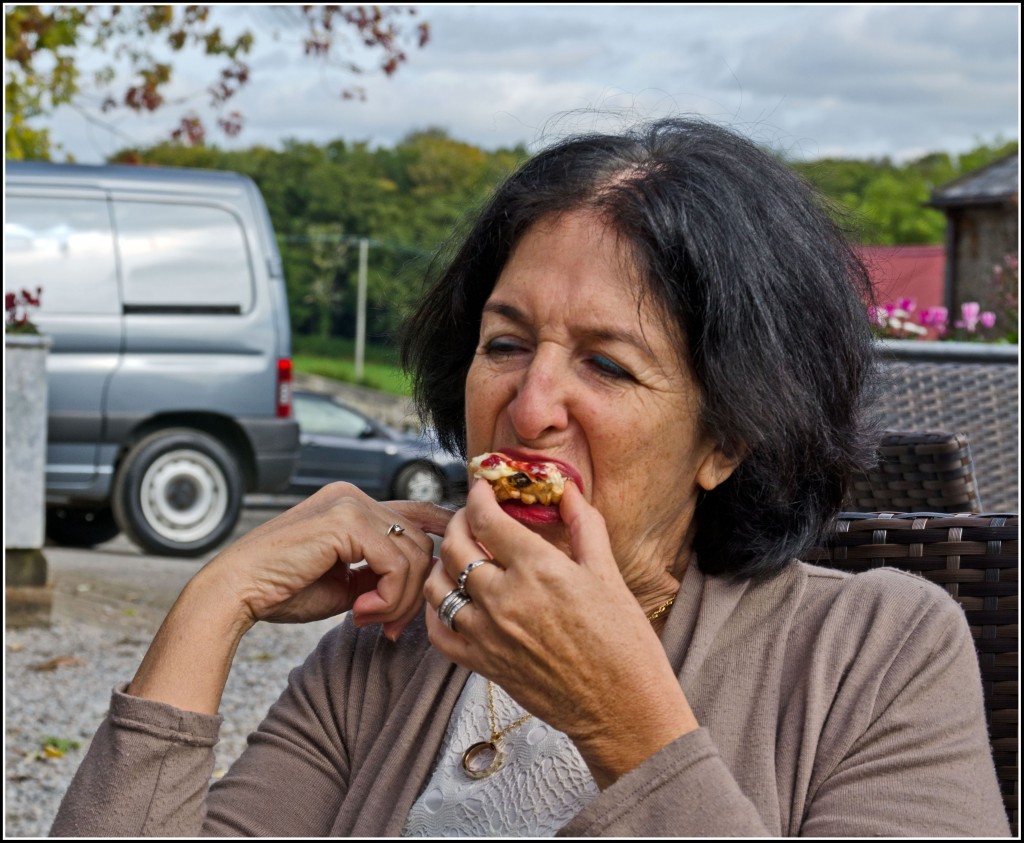 This guest was well used to Devonshire cream teas, but still loved what was served up at Ullacombe Farm Cafe
7. The Merchant's Tea Rooms (website)
I only discovered Colyton, in East Devon, thanks to some guests from the USA whose ancestors came from there. We first went there two years ago, and I was delighted to find a town steeped in history and charm. There are so many stories to tell there that the Colyton Heritage Centre even lay on guided tours of the town on Thursdays from April until September (see here), and we went on one of these on our first visit – it was fascinating! We also managed to incorporate lunch into our visit, at the Merchant's Tea Rooms, a traditional and lovely tea room that prides itself on excellent home made food (serving breakfast, lunch and afternoon tea) in the setting of a 16th century merchant's house.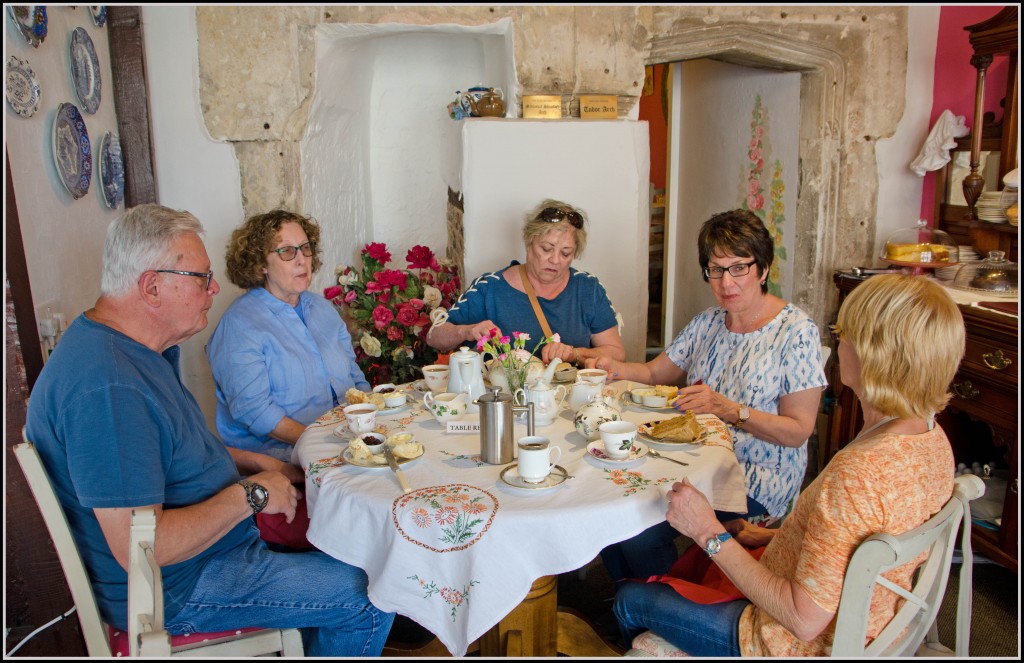 Devonshire cream tea all round at the Merchant's Tea Rooms in Colyton
Well, as luck would have it, my guests recently visited again for a few days in Devon, coming on tour with Unique Devon Tours, and of course we had to re-visit the Merchant's Tea Rooms. This time, however, it was for an afternoon visit, and it was fabulous! In typical Devon style, a courteous and friendly hello came forth, followed shortly afterwards by a fabulous Devonshire cream tea. Lovely!
8. On Sharp Tor with Dartmoor Llamas, on Dartmoor (website)
I must admit that this is very different, and on a good weather day, there surely can't be a better Devonshire cream tea experience in the whole of the rest of Devon. It is actually part of a bigger picture, where my guests have the novel experience of walking Llamas and Alpacas, courtesy of Dartmoor Llamas (it is in fact part of the Fossil Hunting and Llama Walking Day that Unique Devon Tours offers).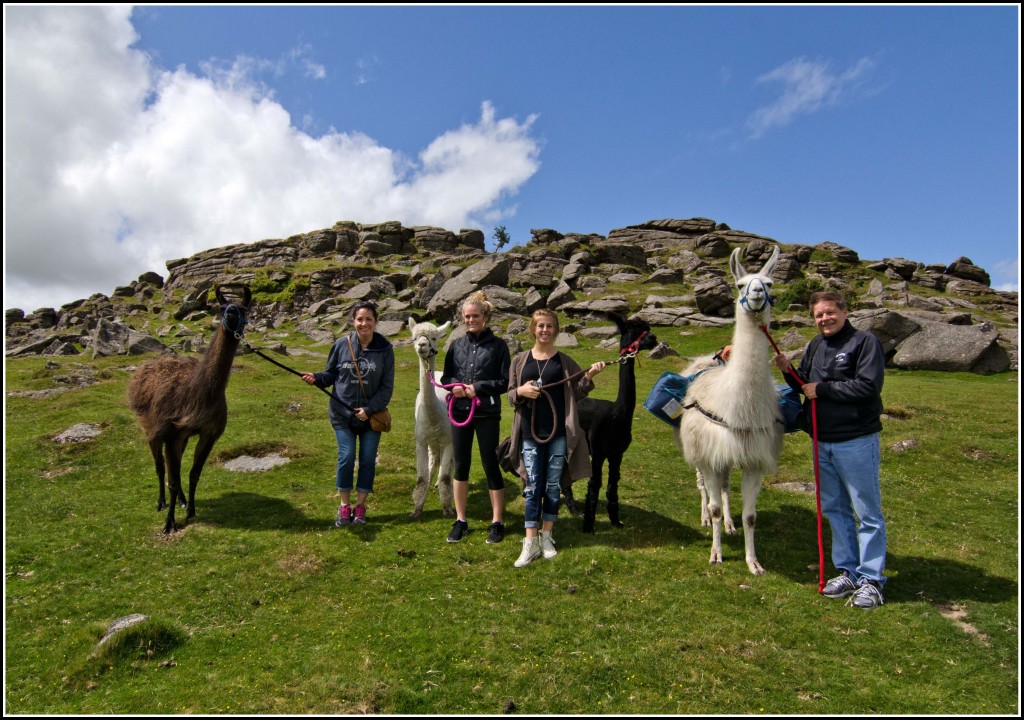 Previous guests from the USA on a Dartmoor Llama walk
To start with, I take my guests across Dartmoor to reach a beautifully located car park. Here we meet Diane and Stephen, owners of Dartmoor Llamas. They introduce us to their animals, and explain the protocol for how best to walk the Llamas and Alpacas. Then we head off across typical Dartmoor terrain in a pretty well organised line, walking for about an hour before we reach the gloriously positioned Sharp Tor.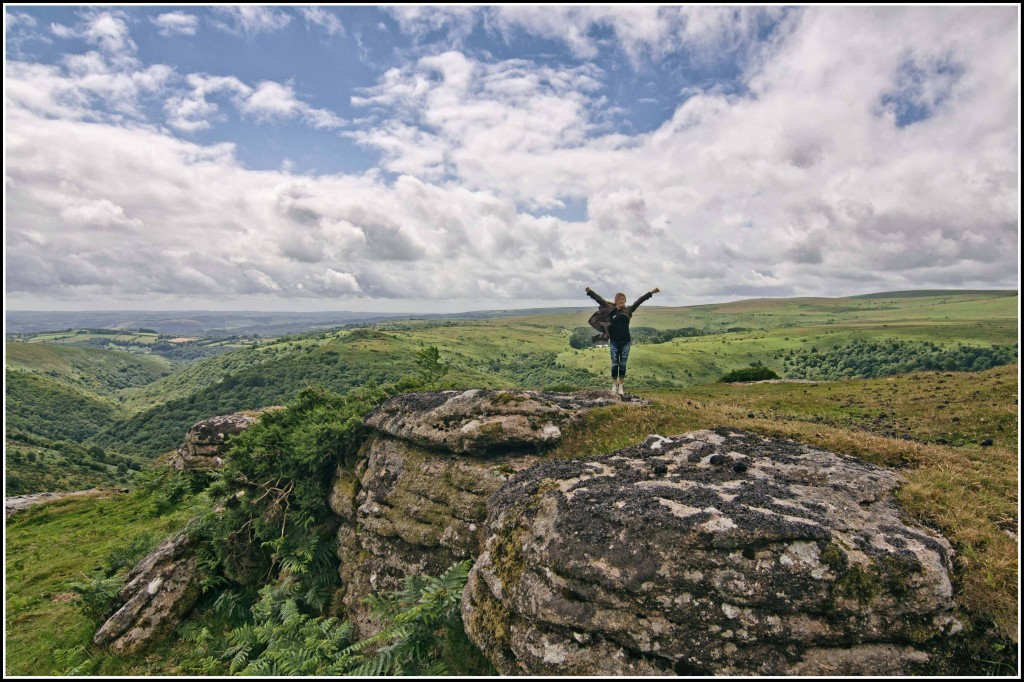 Enjoying the view from Sharp Tor, the taste of a cream tea, and the novelty of walking Llamas – what a high!
The animals are tied up, and a portable cream tea is produced from the saddle of one of the Llamas. But it's no ordinary cream tea, since the scones are freshly baked that day, and everything tastes perfectly fresh, as if you were in a high quality hotel.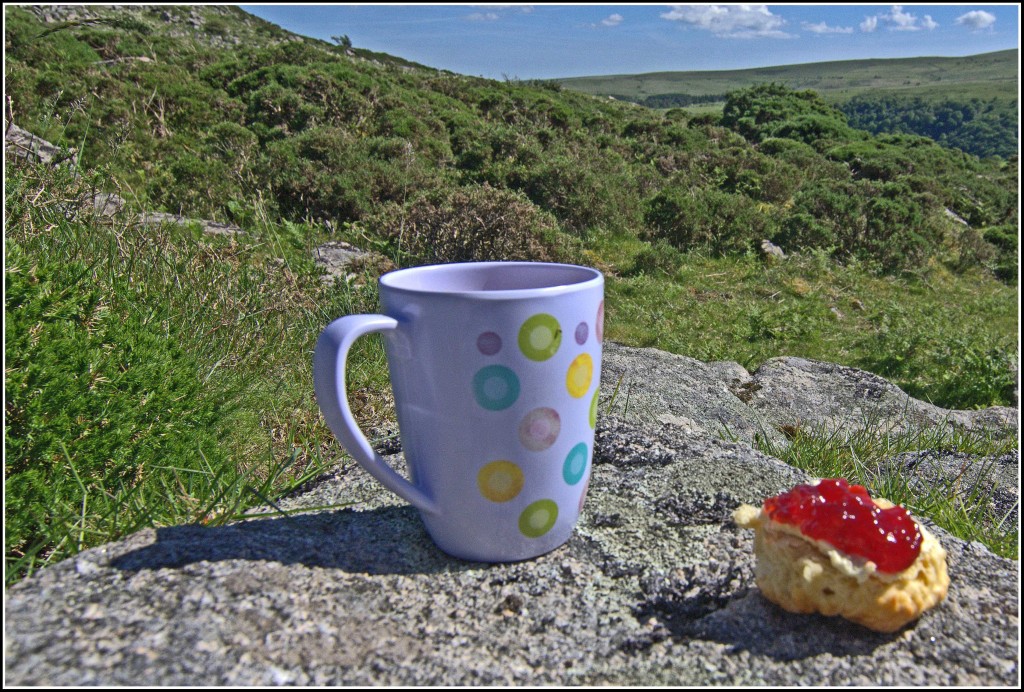 A mug of tea and a freshly baked scone, with clotted cream and jam on top – is this the ultimate Devon experience?!
The difference is that you have an incredible view, you are leaning against a granite Tor, and you are watching Llamas and Alpacas munching away at the nearby greenery. If it wasn't so wonderful, it might actually be surreal!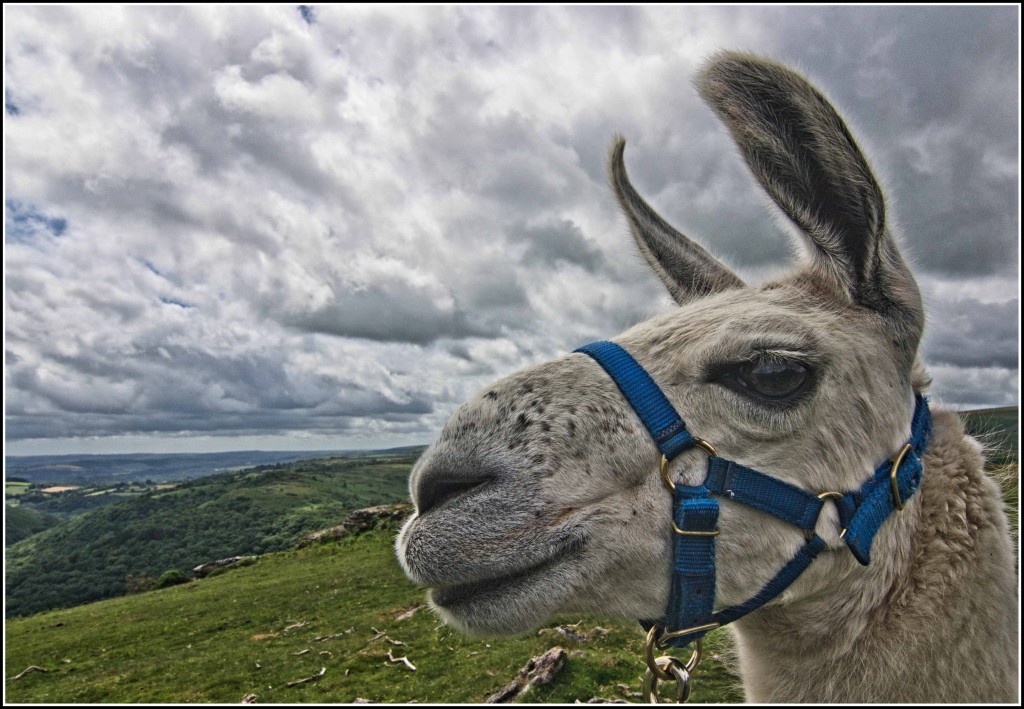 Of course there are hundreds of places in Devon where you can get a Devonshire cream tea. I have been to comparatively few of them, so can only talk about the ones that I've taken my guests to. At the time of writing, however, I will happily vouch for my chosen few, so why not go ahead and try them out sometime – I'm sure you won't be disappointed.
Thank you for reading this article. Please don't hesitate to get in touch with me at alex@uniquedevontours.com if you have any questions about the tours that I offer. I'm sure you won't be disappointed if you decide to book one of my exclusive, unique and award winning guided tours.
---