We are rather spoilt for choice in this part of England when it comes to outstanding accommodation. I have invested much time in selecting places for my guests to stay, using my local knowledge, word of mouth, internet reviews, and of course my own visits. Hence, I can confidently say that choosing a place to stay from the list below will provide you with outstanding accommodation, excellent hospitality, great food, and a memorable stay. However, because of the great choice that we have in this area, I have also included a further list of accommodations that I have full confidence in, that maybe offer a different, yet high quality experience. Please browse at your leisure.
Anran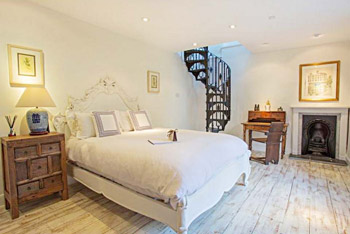 Word of mouth recommendations from people you trust are nearly always worth taking note of. Well, in the case of Anrán this is very definitely true. Having heard about Anrán from a mutual contact, I visited the place with a high level of excitement, having looked at the website and read the Tripadvisor reviews. But when I got there what awaited me far exceeded what I could have hoped for.
Anrán has a special feel to it. Beyond the location, which is typical of Devon's beautiful and tranquil countryside, this place is oozing style, luxury and personality. Each one of the many rooms, suites and cottages has been designed and finished by people that evidently want their guests to be happy, comfortable and impressed. The level of customer service at Anrán is not just very high, but personalised too so that guests feel cared for, and go away as if they've not just had a holiday, but they've had an experience too.
I have no doubt that any of my guests that stay here will be similarly 'wowed' in the same way that I was. I'm very glad to add Anrán to my website as a first class and special accommodation choice.
---
The Orestone Manor Hotel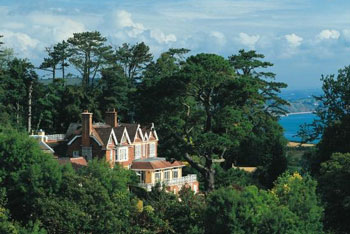 I have chosen this Georgian manor for my guests as it really is a wonderful retreat, and Neil and Catherine, the owners, have created an atmosphere of calm and tranquillity for their guests which one can't help but relax into.
The rooms have all been recently re-decorated in a stylish, boutique manner, they are all en suite, and the majority of them have sea views. I have seen inside every single room, and I can honestly say that they are all very appealing. The food that is served up in their restaurant is of a very high standard.
I've had many guests stay here in the last couple of years, and all the reports have been glowing. Indeed, my brother even stayed at Orestone Manor over his wedding weekend, and told me it was quite wonderful, as I am sure you will be saying too once you have experienced this superb accommodation.
Visit The Orestone Manor Website
---
Bulleigh Barton Manor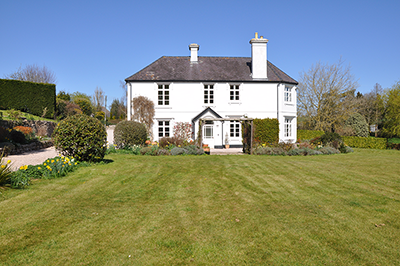 They say that first impressions last, and at Bulleigh Barton Manor this is certainly the case. On arrival one can't help but notice the beauty of the spot. The historic house, set in its own attractive grounds, looks across at a beautiful Devon view that could entice one to stay for much longer than planned. Guests are greeted with a home made cream tea, and encouraged to feel completely at home from the word go.
Liz and Mark have got just the right ethos about how to treat their guests, and they give the impression that they will go to any length to ensure that people leave Bulleigh Barton Manor wanting to return as soon as possible. Customer service and hospitality of the highest level awaits you here, as well as a beautiful house, tranquillity, and gorgeous home made cakes!
Please note that one friendly dog lives at Bulleigh, so the house is not suitable for visitors who are allergic to dogs.
Visit The Bulleigh Barton Manor Website
---
Gidleigh Park Hotel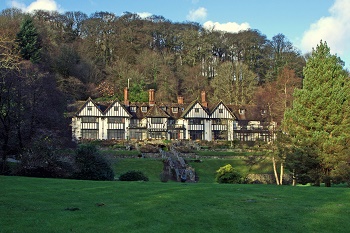 Over the last couple of years, I have strived to deliver excellence for all my guests, in every aspect of what I do as a tour guide. I therefore want them to have the best experience possible when staying in Devon, hence I am pleased to present Gidleigh Park Hotel, one of the United Kingdom's most highly acclaimed hotels.
Situated in its own peaceful grounds from which stunning views are to be had, Gidleigh Park offers guests the ultimate in refined living and fine dining. Nestled in a beautiful Dartmoor setting, guests can explore the grounds at their leisure, play croquet, or just sit and enjoy the peace and quiet of this wonderful hotel. You will come away from a few nights here feeling rested and very well looked after, of that I am sure.
Visit The Gidleigh Park Website
---
The Rock Inn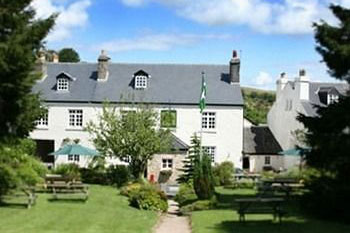 I felt very strongly that I needed to have a place for my guests that represents Dartmoor, and feel that I have made exactly the right choice with The Rock Inn.
It really is a perfect example of an old English country inn, being built originally in the 18th Century as a coaching inn. It has been run by the same family for many years, and retains very high standards of customer service, comfort and cuisine. The bedrooms are tastefully decorated in the tradition of the Inn, and offer very comfortable and relaxing environments.
The inn is on the edge of the Moors, situated in a tranquil and idyllic setting – what better place to return to for a fantastic evening meal and a great night's sleep after a grand day out?
---
The 25 Boutique B & B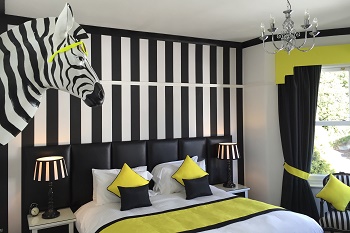 I like to think that what I offer to my guests is a bit different from the norm, so when I find an accommodation that tries, like me, to go beyond the extra mile, I take note of it. The 25 Boutique B & B has only been open for a comparatively short time, but it has already established itself as the number one bed and breakfast in Devon, according to Tripadvisor, which is an incredible achievement. One quickly notices the small touches and attention to detail that makes this guest house stand out in Torquay, hence I can gladly recommend it.
Within ten minutes' walk of the seafront and a plentiful array of restaurants, The 25 offers guests the opportunity to stay in this old and elegant seaside resort, and to be within a very short distance of the starting point of one my most popular tours, the Agatha Christie full day tour.
Please note that The 25 only accepts bookings for people aged 14 and over.
Visit The 25 Boutique B & B Website
---
Glazebrook House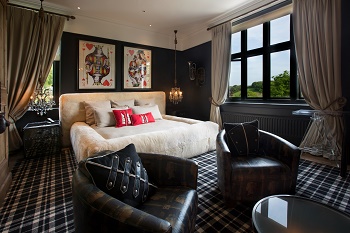 It's quite incredible just how a hotel can be turned around from the ordinary, one year, to the extraordinary the next. But that's what has happened to Glazebrook House, and having visited it recently for the first time, I am delighted to recommend it as a most luxurious and unique hotel for my guests to stay in. Recently named 'Best, Small, Exclusive Hotel' in the Condé Nast Johansens 2016 Awards for Excellence, it is certainly living up to this status, with glowing Tripadvisor reviews for its accommodation, customer service, exquisite food and originality.
One thing that stayed with me after my visit was the fact that I did not just look in each room, then walk out, but I actually wanted to pause and take everything in, such is the individuality of each room. I am sure it will be the same for you should you wish to stay here.
Please note that Glazebrook only accepts bookings for people aged 16 and over.
Visit The Glazebrook House Website
Other Recommended Accommodation
Dartmoor
The Ilsington Hotel – www.ilsington.co.uk/Home – 01364 661452
Mitchelcroft Bed and Breakfast – www.mitchelcroft.co.uk/ – 01364 631336
Yarner House - www.yarner.co.uk - 01364 661503 (high quality bed and breakfast, and wedding venue, in a unique and beautiful location)
Moorland View Cottage (self catering cottage) – www.moorlandviewcottage.co.uk/ – 07786 264865
Penpark – www.penpark.co.uk/ – 01626 821314
Prince Hall Hotel – www.princehall.co.uk/ – 01822 890403
Barnabas House - www.barnabas-house.co.uk - 01822 853268
Visit Dartmoor (Dartmoor National Park's official tourism organisation, with a host of accommodation providers on Dartmoor listed) - www.visitdartmoor.co.uk/accommodation - 01837 659224
Dartmoor Accommodation (a selection of accommodations on Dartmoor) – www.dartmooraccommodation.co.uk/ – 01822 810827
Exeter and East Devon
Southernhay House – www.southernhayhouse.com – 01392 439000
Mercure Exeter Southgate Hotel – www.accorhotels.com/gb/hotel-6624-mercure-exeter-southgate-hotel/index.shtml – 01392 412812
Plymouth Area
Boringdon Hall - www.boringdonhall.co.uk - 01752 344455
Newton Abbot Area
Bickley Mill – www.bickleymill.co.uk/ – 01803 873201
Totnes Area
Dartington Hall – www.dartingtonhall.com/ – 01803 847147
Devon Self Catering Properties
Mazzard Farm (self catering cottages) - www.mazzardfarm.com/ – 01404 815492
Coast and Country Cottages – http://www.coastandcountry.co.uk/ – 01548 843773
Helpful Holidays – http://www.helpfulholidays.com/ – 01647 433593
Discovery Holiday Homes – www.discoveryholidayhomes/ – 01803 213814
A lovely town house in Ashburton – I have recently become acquainted with the owners of one of the houses that Harry Baskerville lived in locally (the man that drove Sir Arthur Conan Doyle around Dartmoor, whose name has become the stuff of fictional legend).  It is a beautifully decorated and equipped house, big enough for six people.  If you'd like to stay here to get close to something fundamentally Sherlock related, please click here.  The same people also own the smaller Ashburton self catering property that you can see here.
Unique Devon Tours is also a partner of three of the local tourism organisations that represent tourism in their respective areas.  They have accommodation partners (hotels, guest houses, inns, etc), and whilst Unique Devon Tour can't recommend specific accommodations from their websites, please feel free to browse the following pages:
Visit Devon – www.visitdevon.co.uk
Visit Dartmoor - www.visitdartmoor.co.uk
Visit South Devon – www.visitsouthdevon.co.uk
English Riviera - www.englishriviera.co.uk