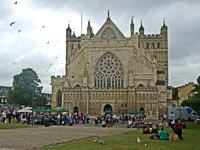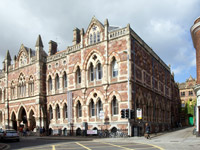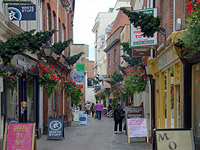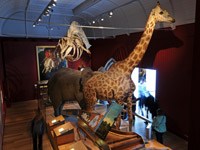 I will collect you at 9am, after you've had breakfast.  After driving to Exeter, we will head to the magnificent medieval Cathedral where you will take part in a private guided tour of the building, giving you a special insight into the history of this fabulous building.  This will be followed by lunch in a cafe, restaurant or pub of your choice, with a little local guidance from me.  The best locally sourced food is available in abundance in Exeter, from traditional Ploughmans to fresh fish and chips, you decide!
The afternoon will start with a private curator led guided tour of Exeter Museum, a fabulous place that won Museum of the Year 2012 in the whole of the United Kingdom!  Once the tour is over we can stop for coffee, then carry on wandering around the museum, or alternatively visit the fascinating medieval Underground Tunnels, the only ones of their kind in this country.  Or, if you prefer, we can take a walk down to Exeter Quay, a place popular for its history, variety of shops, pleasant river setting, and great places to buy a drink, then sit and watch the world go by.  As with all of my days out, I am perfectly happy to shape this day around your interests, and can offer many alternatives to what I describe above.
Itinerary:
9.00 am – collection from you accommodation
10.00 am – arrive at Exeter Cathedral for a private guided tour of this magnificent building
12.00 pm – lunch in Exeter at a pub or restaurant of your choice
2.00 pm – head to RAMM (Exeter Museum) for a private curator lead tour
3.00 pm – this is where you get a choice: 1) maybe stop for a coffee, then carry on enjoying all that the museum has to offer; 2) a visit to the medieval Underground Tunnels; 3) walk down to the atmospheric Exeter Quay to enjoy a drink and maybe visit the antique centre
5.30pm – return to your accommodation
Price – starting at £350 for the group depending on choice of itinerary and group numbers, maximum of six (which includes my services as your tour guide, transport in my vehicle including fuel and full insurance, any fees, fares or entrance charges which I would incur for accompanying you, and any parking charges applicable to my vehicle).
What's extra – any refreshments, meals, drinks and any other purchases you make on the day