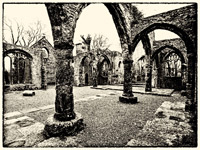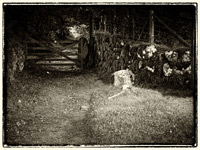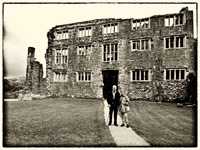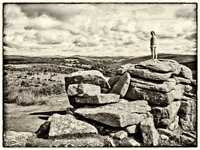 Devon is truly a place of history, myth and legend. From one end to another, there are countless tales of hauntings, often based on folklore, often based on fact. This tour gives guests the opportunity to learn about some of these stories, and to see the evocative places in which they are based. We visit the ruin of a 15th Century castle, an 800 year old inn, a church with a difference, before heading up to Dartmoor to hear about some of this National Park's most iconic and spooky tales!
Stories of witches, suicides and hairy hands will have you enthralled, and just the atmosphere of some of the places, regarded as being amongst the most haunted of their type in England, will send shivers down your spine.
During the day we will also be driving through some beautiful scenery, giving guests ample opportunity to take photographs of the spectacular views. We can take a walk or two, and lunch will be had in a characterful old inn, with more than its fair share of apparitions! To soothe the nerves at the end of the day, a traditional Devonshire cream tea will be on offer, and then I return you to your accommodation in time for you to rest and recuperate!
Itinerary (timings are approximate and can be adjusted to suit you):
9.00 am – collection from your accommodation
10.00am – visit to Berry Pomeroy Castle
11.30am – visit to one of England's most haunted pubs for a look around and early lunch
1.30 pm – visit a Church with a considerable difference, that also has great links to the Hound of the Baskervilles – prepare to be spooked!
2.00 pm – drive up on to Dartmoor, where we spend the afternoon visiting a variety of haunted sites, hearing about the myths and legends attached to them
5.30 pm – return to your accommodation
Price – £350 for up to 2 people, or £380 for between 3 and 6 people (which includes my services as your tour guide, transport in my vehicle including fuel and full insurance, any fees, fares or entrance charges which I would incur for accompanying you, and any parking charges applicable to my vehicle)
What's extra – any refreshments, meals, drinks and any other purchases you make on the day.