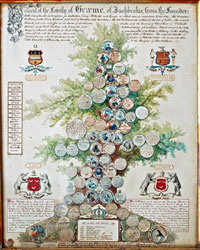 This is a fantastic and unique opportunity for you to truly bring your family history to life. You may have spent months or years researching your family tree, but you've done it all from a chair, using your computer. Well, here is your chance to actually get to see the places where your ancestors were born, lived, worked, went to Church, and died.
Using my local knowledge of the area, my knowledge of how to access relevant information locally and off the net, and my experience in extensively researching my own genealogy, I can put together a great day out where we visit the area in Devon that your family came from. We can visit the beautiful countryside, towns and villages of your forebears, and go inside the churches that they once attended services in. Possibly we can find their headstones, and go to lunch in the pub they once ate in. I can help to put the colour into your family history, and we can certainly include plenty of time for photo stops.
Itinerary:
9.00 am – collection from your accommodation. We will proceed to the locations that we've identified as being relevant to your family, whether they are in towns, villages or the countryside.
12.00 pm – lunch will be in a handpicked pub or restaurant, during which I will share with you some of my fascinating family history, if you wish.
14.00 this can proceed in much the same manner as the morning, maybe visiting Churches, and allowing plenty of opportunity for photography. Alternatively, it can be shaped according to your wishes and interests, possibly stopping for a traditional Devonshire cream tea at the end of the afternoon.
5.30 pm – return to your accommodation.
Price:
Starter Package with usual itinerary planning, but minimal genealogical research – £380 for the group.
Intermediate Package with usual itinerary planning PLUS 2 to 3 hours of genealogical planning from office – £440 for the group.
Advanced Package with usual itinerary planning PLUS 4 to 5 hours of genealogical planning including time spent at the Devon Record Office – £490 for the group.
Plantagenesta Package with usual itinerary planning and an additional wealth of family history research completed by my genealogy expert friends at Plantagenesta – please contact Unique Devon Tours to discuss further details and price.
All the above options are for a maximum of six people (which includes my services as your tour guide, transport in my vehicle including fuel and full insurance, any fees, fares or entrance charges which I would incur for accompanying you, and any parking charges applicable to my vehicle).
What's extra – any refreshments, meals, drinks and any other purchases you make on the day.