22nd February 2015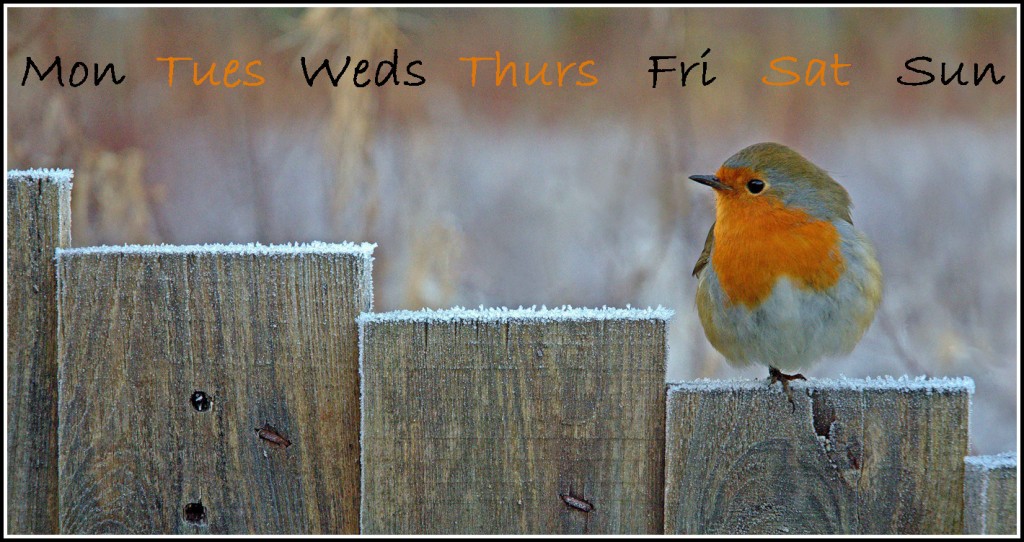 This is an article that I'd never thought of writing until the week in question had actually taken place.  It was a week that started with promise, with a two day tour booked and a couple of other potentially useful days in the diary.  But so much unfolded during the week that come the end I just had to write about it.  I pronounced last year as the best working year of my life – this week that I'm about to tell you about, in late January, certainly has to be one of the best working weeks of my life, if not the best!  So, on to the first day…
Reunion Monday
Having been in operation as a tour guide for a relatively short time (just over a year), out of season bookings are uncommon.  However, for this day and the next I had a tour booked for a family of fourteen Americans.  This is more than the normal group size that I take out, but it was completely manageable since one part of the group was prepared to drive a minibus behind my vehicle, in which I would carry six of the family.  This day was dedicated to taking the Americans to various places in mid-Devon for a family history tour.  Their ancestors had left the county in the early 1900′s, and this was their first trip back to see the lands of their forebears.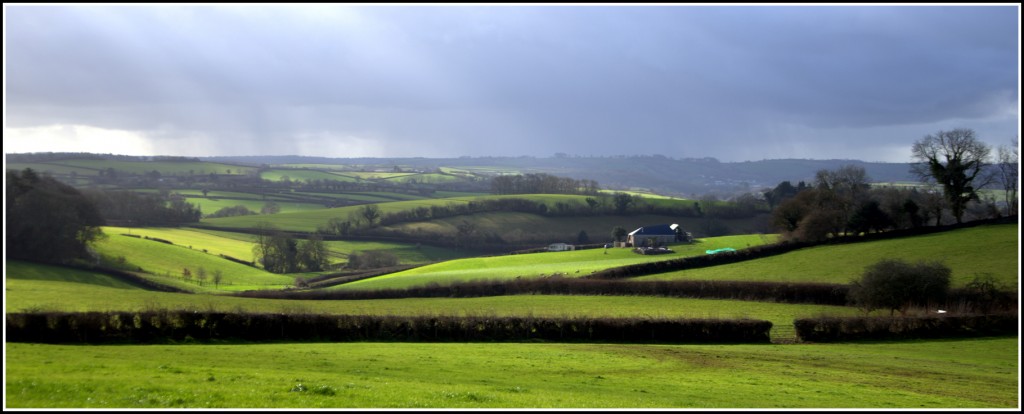 The rolling green lands of Devon, from where my American guests' forebears came
So, I met the family at their accommodation to discover a minor change to the plan.  The family, in the two minibuses they had hired, had experienced more than enough of English roads in the last two or three days!  So instead of driving one of the minibuses, they had arranged for a local chap to take them in his minibus, while I took the rest of the family in front in my car.  This was quite understandable since driving in Devon is massively different from driving in the USA!
We headed off towards mid-Devon, making our way to the village of Chulmleigh, where we arrived just after 11:00am.  Churches have been the main focal point of community life for centuries in England, so they always feature strongly on the genealogy tours that I do.  This was no different today.  As we walked up to Chulmleigh Church, I spotted ahead of us 3 people, standing outside the entrance.  I made sure my American friends were close behind me, then walked up to these strangers and introduced myself.  I turned to the Americans, and said: "please meet Michael, Rachel and David, your long lost cousins."  They looked rather dumbfounded, then after a few seconds the penny started to drop.  I had only managed to track down some of their family, people that the Americans didn't even know existed!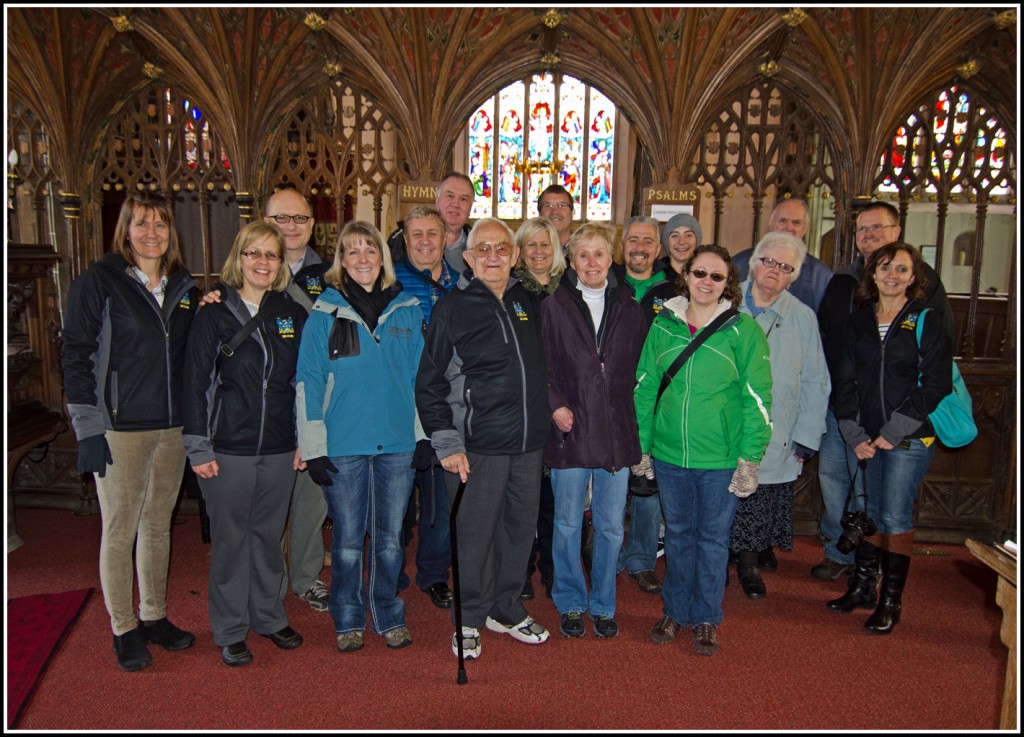 Happy families – the Americans unite with their Devon cousins
The link was their great x 4 grandfather, from whom they were all descended.  Handshakes and joy followed, and after an hour of chat, comparing of notes, laughter, hugs and tears, the family reunion was complete.  It was a wonderful thing to witness, and the family are now in touch with each other using the wonders of modern technology!  We spent the rest of the day on a 'family history' high, exploring other communities and churches in mid-Devon, even finding some family graves from previous centuries.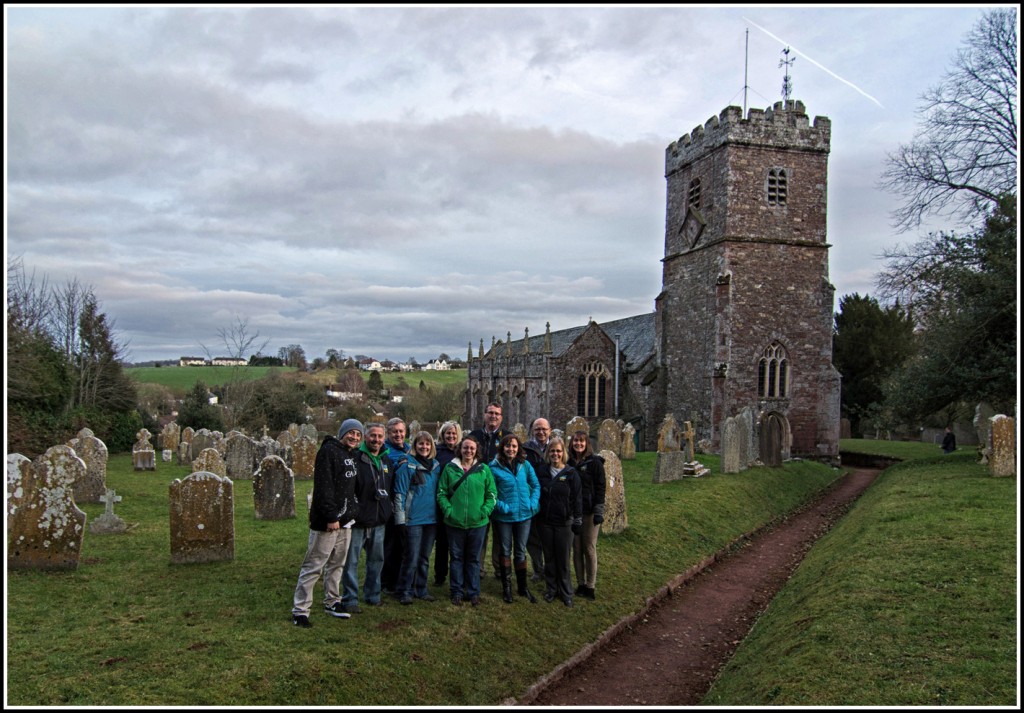 The family gathered outside the church at Newton St. Cyres
On the Moors Tuesday
On Tuesday I took the same happy family across Dartmoor, on The Ultimate Dartmoor Experience.  They were in a great frame of mind from the day before, and seeing Dartmoor, where their ancestors would have wandered in bygone years, was something that they thoroughly enjoyed.  Such was the high that the mother of the family, in her late 70s, easily coped with climbing to the top of Haytor rocks, something that local people will know is a pretty amazing feat!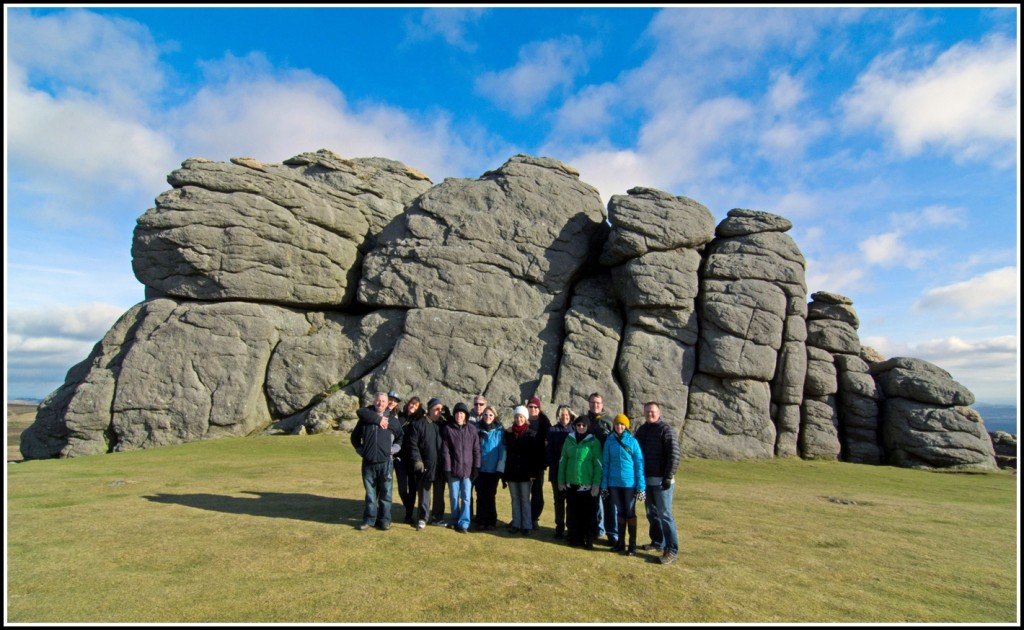 The American family at Haytor on Dartmoor
We also visited Jay's Grave, had lunch at The Rugglestone, paused at Postbridge, then had a private guided tour of Dartmoor Prison, before ending the day with a traditional Devonshire cream tea at The Two Bridges Hotel, something that went down exceedingly well (especially since I explained how to eat it the Devon way – cream first, then the jam!).  Here I told my guests all about The Hound of the Baskervilles, which can be heard about in far more detail on this tour – The Hound of the Baskervilles Tour.
I returned my guests to their lodgings, bidding them a very fond farewell.  They expressed their gratitude wholesomely, including a gift which I'll mention shortly, which only added to the highs of my week!  They have also given me some wonderful reviews, which can be read here: Unique Devon Tours on Tripadvisor.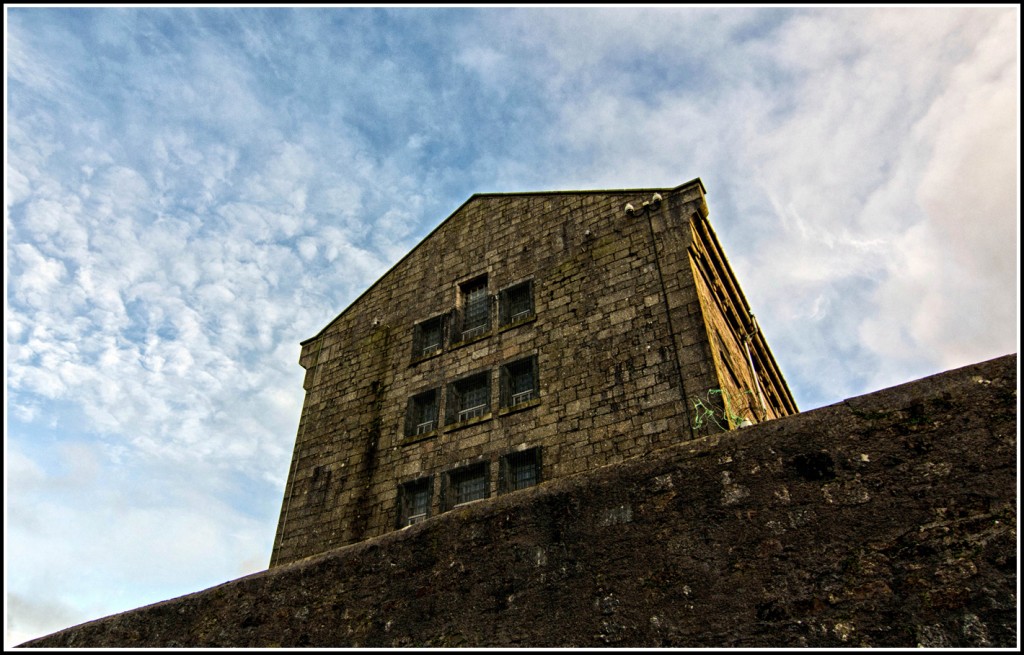 The private guided tour takes guests right up close to Dartmoor Prison
Lost and Partially Found Wednesday
Tired but happy from the previous two days, this was a quieter 'catch up' day, although good news came through later on.  I got to work processing the photos from my American guests' tour, as well as doing their summary, something I do for all guests.  A couple of issues arose during the day as I noticed that my camera bag and rain coat were not to be found.  The camera bag (with just a relatively cheap lens and no camera in, I'm glad to say) remains lost, presumably somewhere in mid-Devon, but the coat had accidentally been picked up by one of the American family, so they instructed me that they'd leave it at their hotel in Torquay, along with something else.  I pencilled in that I'd go and collect the coat and mystery item the next day.
The good news that came in was that Unique Devon Tours had once again made the international press, this time in Le Devoir of Canada, a French language newspaper published in Montreal and distributed in Quebec and the rest of Canada. Its circulation is around 50,000, therefore giving great coverage to Unique Devon Tours' Agatha Christie Tour.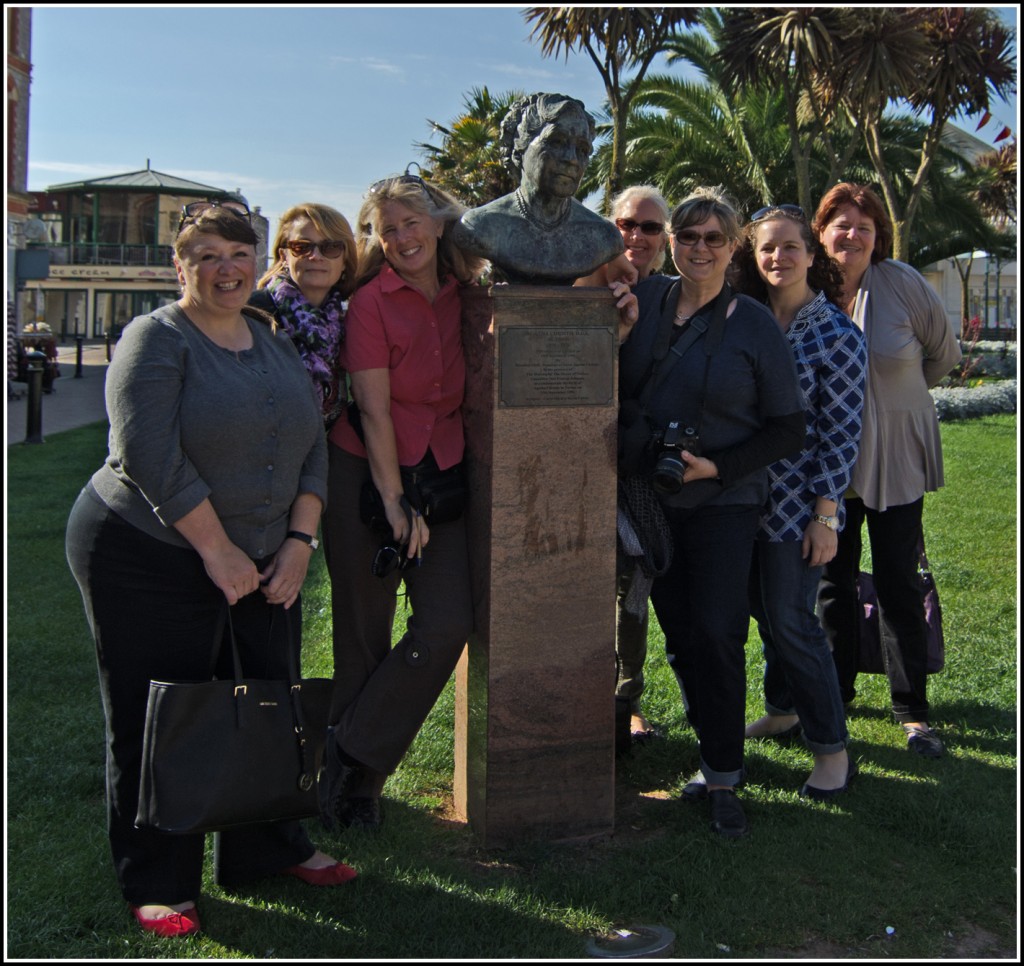 Canadian Journalists on tour with Unique Devon Tours
To add to this, a request came in from the English Riviera Tourism Company for me to take out some journalists on the Agatha Christie tour in May, a great opportunity for Unique Devon Tours to gain further publicity, this time in Germany, Austria and Switzerland!
Networking Thursday
Thursday came, and I had been invited to an exclusive exhibition down at the beautiful Buckland Tout-Saints Hotel in South Devon.  A great opportunity to spread the word about my guided tours, as well as putting names to faces and making links for the future.
En route, I headed over to Torquay to collect my coat.  I got to the reception, and there was the coat, complete with mystery item.  The American family had only gone and organised 4 tickets to go and see a rather special football match –  Manchester United Legends v Bayern Munich All Stars in the Red Heart charity match in June.  Iconic football stars from both teams, and a great day out for my family and I!  Such a kind gesture on the American's behalf!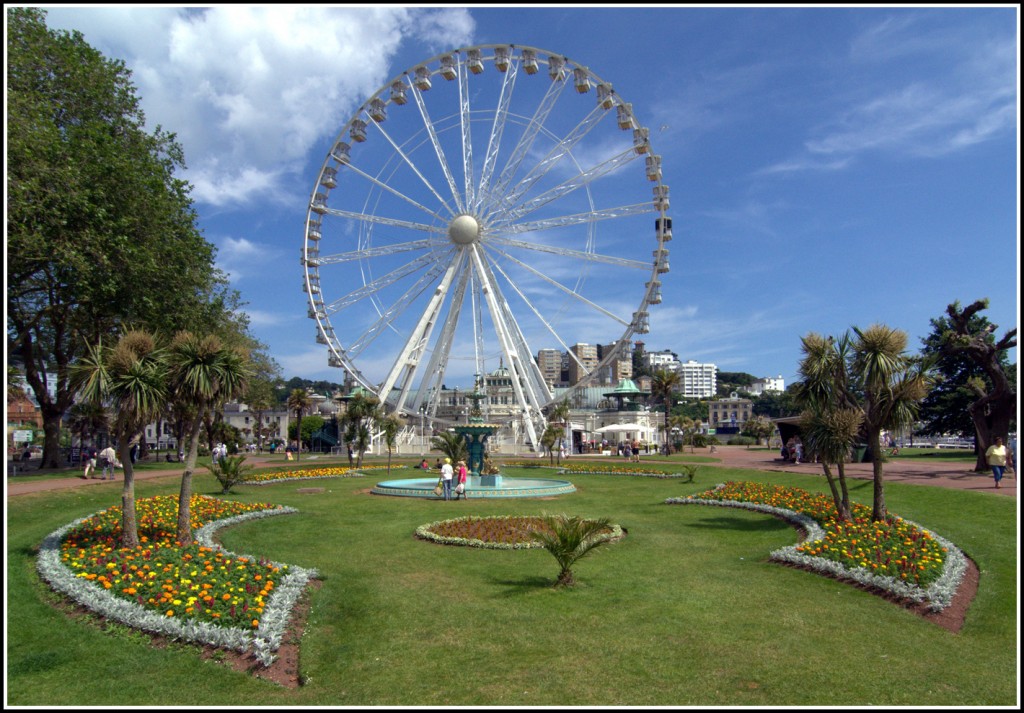 Princess Gardens in Torquay, near to the hotel from where I retrieved my coat!
I then drove on to the exhibition, which turned into a very beneficial event, leading to several introductions to influential people in the tourism industry in Devon, including television presenter Alexis Bowater, Inge of Dartmoor Walks and Rides and Jennie of Graze & Flavour, and future meetings with the likes of Bovey Castle Hotel and Kitley House Hotel.  I also met old friends OAC Ltd, people that are always a pleasure to see.
It was early to bed this evening, since the next day required a very early start!
Award Winning Friday
I set off for London, having woken at 4:00am, with my friend and fellow photographer, Richard.  Our objective was to get to the Destination and Travel Show at Olympia in London, and the reason for being there was two-fold.  Firstly, the show would be a good opportunity for me to network and hopefully spread the word further about Unique Devon Tours, and secondly, I had managed to get one of my photographs into the final of the Wanderlust Travel Photography competition, a huge honour since there were nearly 8,000 entries.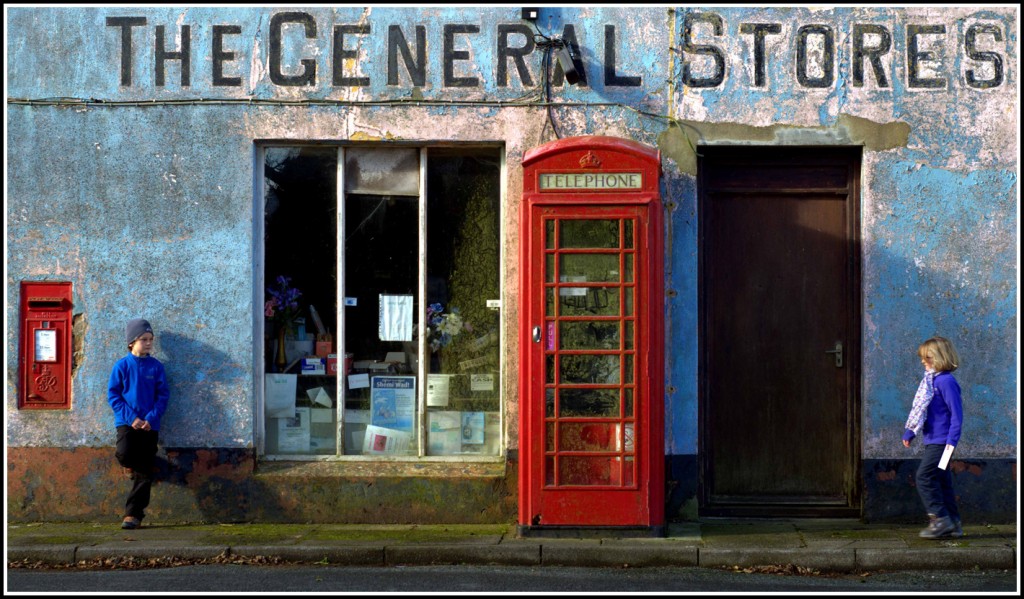 My award winning image, Last Post at the General Stores
The show was certainly worth going to, simply because I got to meet Hilary Bradt, the founder of Bradt Travel Guides.  As a result, I will shortly be meeting Hilary for lunch to discuss how I can help with the forthcoming 'Slow Travel in East Devon and the Jurassic Coast' Bradt guide book, a tremendous honour!
Towards the end of the afternoon it was time for the winners of the competition to be announced.  Several hundred people gathered, with founder of Wanderlust, Lyn Hughes, and influential travel writer, Simon Calder presenting the awards.  Initially we were treated to an excellent critique on all the images by judges Paul Goldstein and Steve Davey (both professional and well known photographers).  Then came the moment of excitement, as the award winners were announced!  Well, I was thrilled to be given highly commended in the People category (the equivalent of 3rd place), in the process winning a new camera and a year's subscription to Wanderlust.  It was a truly amazing moment!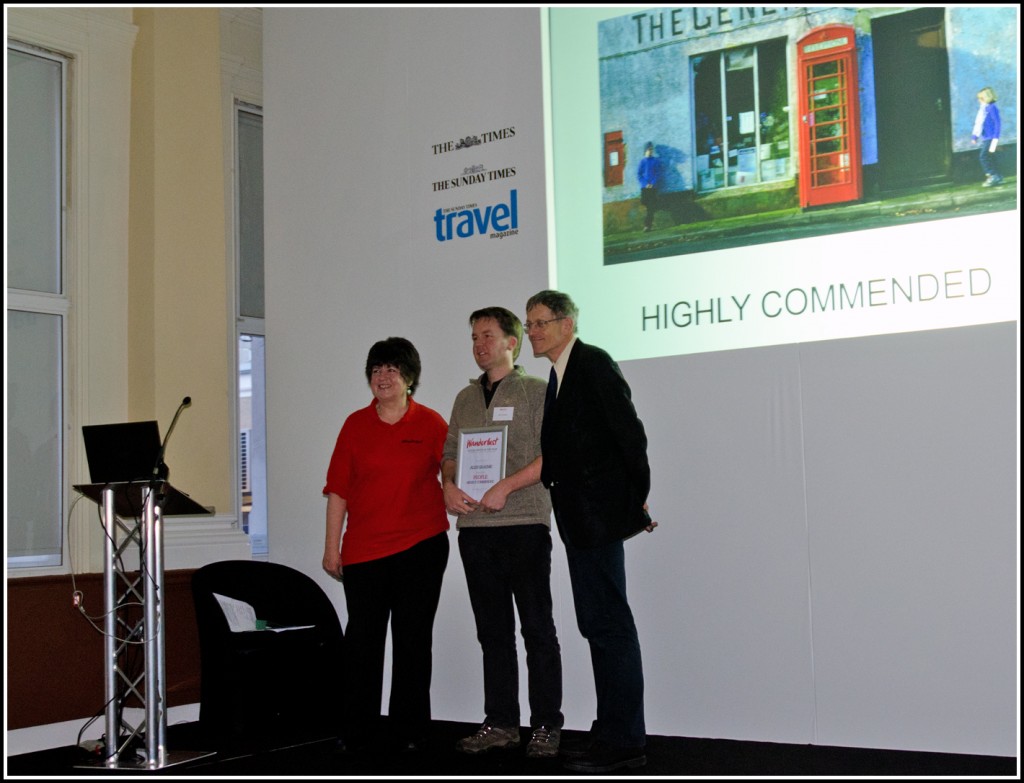 Lyn Hughes and Simon Calder present me with my award
The journey home was a long but happy one, taking about six hours, but one last piece of good news was awaiting my return!  My 'Robin Resting' photograph had been voted the Devon Life Facebook image of the month, therefore becoming their Facebook header for the month of February.  A small honour, but a lovely one all the same!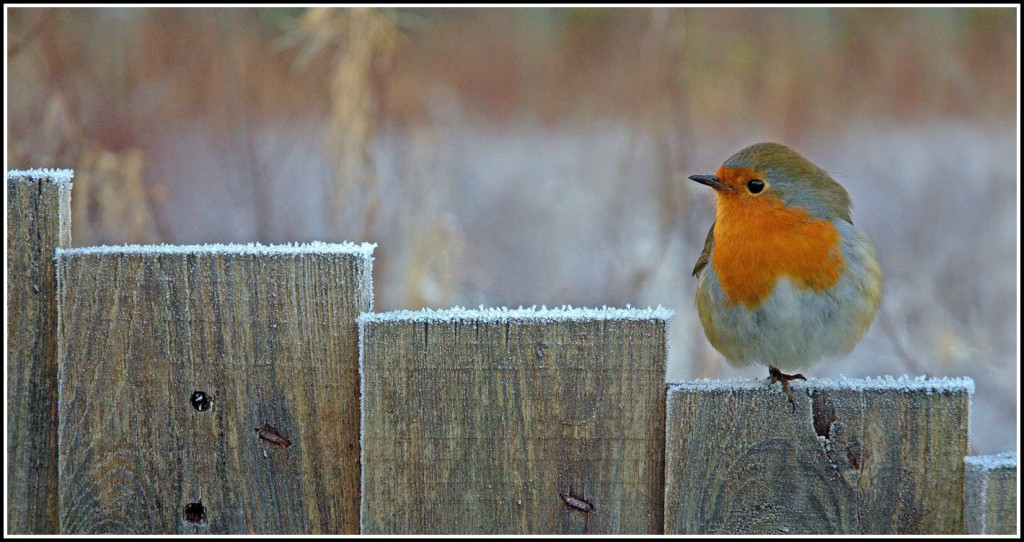 Robin Resting
Family Time Saturday
After the week I'd had, I was more than happy to relax for a day, and enjoy some family time.  I was tired from the London trip, so a country walk and a bit of shopping with my children was a good way to spend the day.
Snowball Fight Sunday
On Sunday, we woke up to the rare and welcome sight of snow, albeit in the distance, up on Dartmoor.  We were lucky enough to have been invited up to lunch at a friend's Dartmoor cottage, where we ate tasty food around the log fire.  It involved a half hour hike to get to their place since ice had made the road dangerous, but it was a wonderful way to end the week, with a huge snowball fight to end proceedings!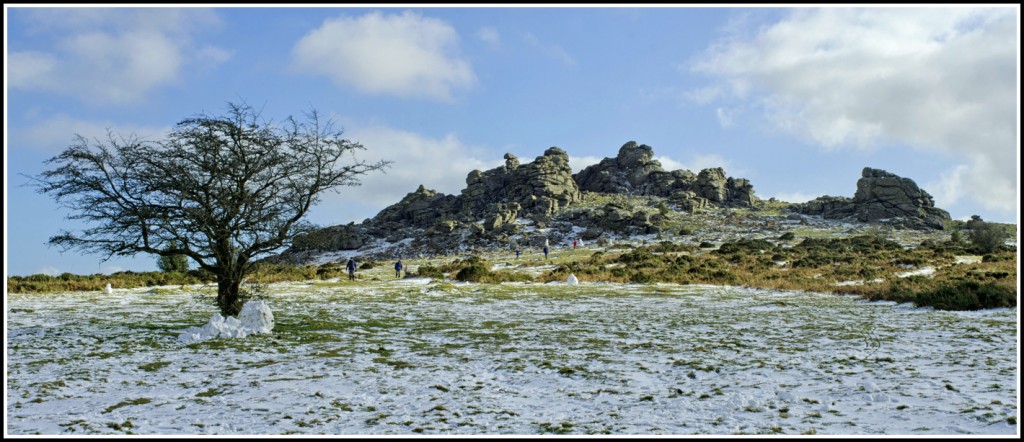 Hound Tor on Dartmoor
If I have a week to top this one during my working life, I'll be a very happy and surprised man!  Thank you for reading this article.  Please don't hesitate to get in touch with me at [email protected] if you have any questions about the tours that I offer.  I also welcome comments at the end of the blog, thank you.