2nd January 2016
After a very busy 2015, the Winter has come and given me the chance to take stock of where Unique Devon Tours has got to, and just how it can make itself even better and more appealing to a wider range of potential guests. Devon has such a broad array of different activities and places to visit that it seems only right to create some new tours, giving guests more choice of things to do in this most wonderful and unique county, with this award winning tour guiding company.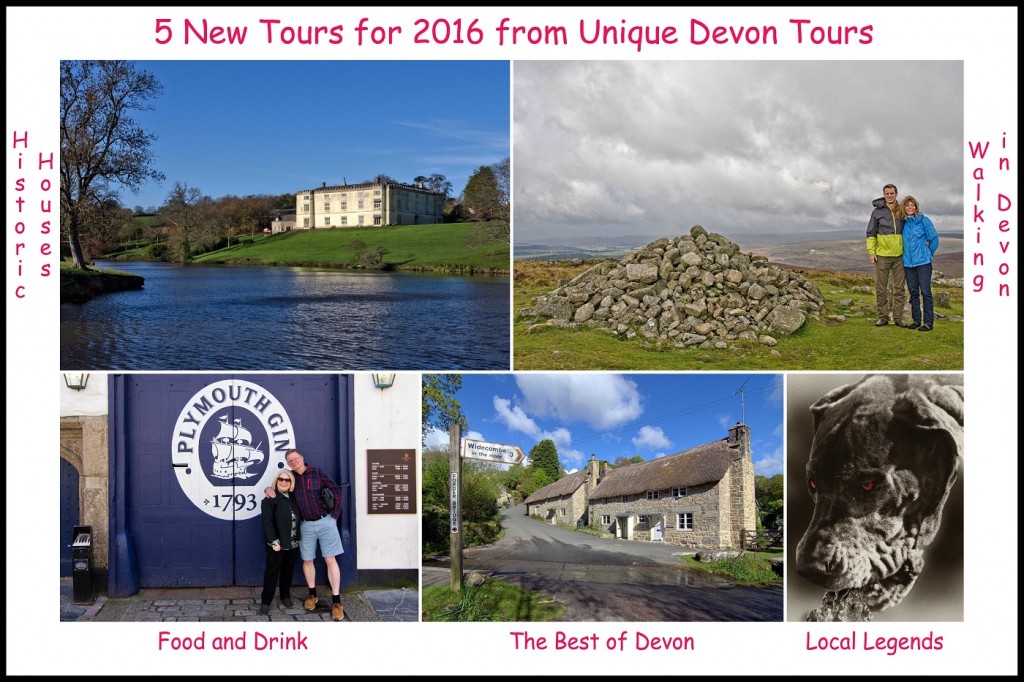 I have therefore created five new tours, all of them very appealing, in my mind at least, and all of them playing on the strengths of Devon. So, it's time to go into a bit more detail and to announce the arrival of these new tours in this blog article, explaining why I've created them. Please enjoy reading about them:

The Best of Devon Tour
I happened upon this tour as I have actually delivered it to guests several times without giving it a name or identity. It's been a great tour to provide to people who only have very limited time in Devon, and no fixed agenda, because it gives them a really good overview into so much of what the county is all about, and just in the space of one day. Personally I think one needs more than one day to see and appreciate Devon (I've lived here and explored for over 40 years, but I'm still learning!), but for those that don't have the luxury of time or of being resident here, this tour is perfect.
It covers two key aspects of Devon. The first is Dartmoor, our main National Park (we also have part of beautiful Exmoor in North Devon). The richest place in the United Kingdom for Bronze Age remains, it also offers so many other aspects of interest for visitors, and half a day gives a brief but tantalising insight into some of these aspects. Nature, myths and legends, dramatic outcrops of hilltop granite, both bleak and inspiring landscapes, the Hound of the Baskervilles, medieval history – all of it can be witnessed during a morning on Dartmoor with Unique Devon Tours. Short but sweet are the watchwords for these few hours, and then I take my guests to my Dartmoor inn of choice, The Rugglestone, which has yet to give anything but the greatest satisfaction to my many guests that have eaten there.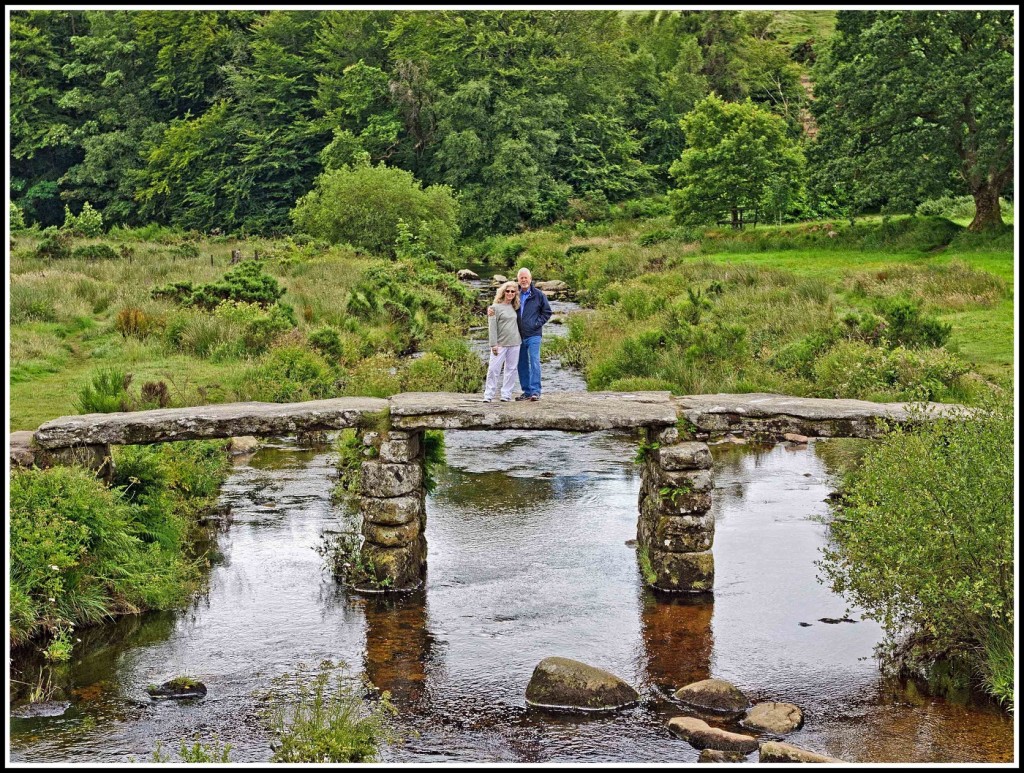 Previous guests on an 800 year old Dartmoor bridge
In the afternoon we head down to South Devon, the second area that I think is indicative of what Devon is all about. To get there we drive through the beautiful rolling landscape, lush and green, which so many visitors are wowed by (I normally get asked to stop for photo opportunities, such is the beauty of what we are driving through!). Eventually we arrive at the coast, where guests have to pinch themselves as the contrast with Dartmoor is so great. The seascapes here are really stunning, but there are reminders also of some of Devon's more tragic history, particularly the link with the USA that has been immortalised just off the back of a beach. Guests will hear all about what happened here, before we head off again along the beautiful and photogenic coastal road towards Dartmouth. This is another great stopping point as it represents Devon's rich naval history, and it is very easy on the eye, being so picturesque. The trip carries on, probably after a traditional Devonshire cream tea, with us taking the ferry across the River Dart, which we will have seen in its narrower form earlier in the day on Dartmoor. Time probably starts to go against us now, but guests have had a great tour by now, and if this is the one and only day they have to spare in Devon, then it is sure to have convinced them to return!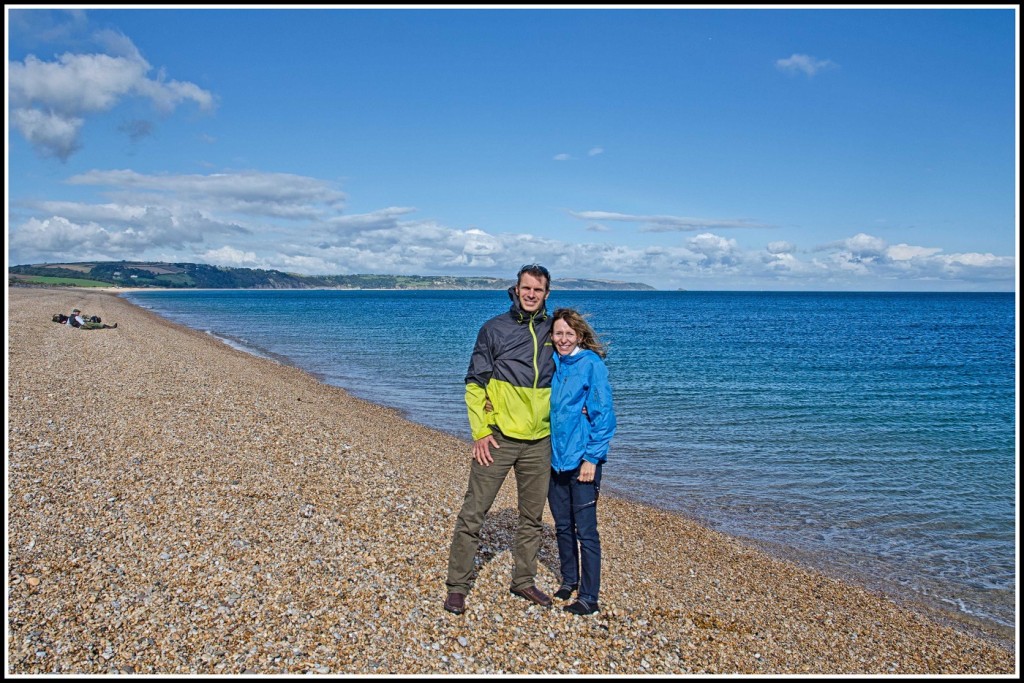 Previous guests on a South Devon Beach
More detail about this tour can be found here, and to see a review written by a guest that took this tour in 2015, please see here.
The Food and Drink of Devon Tour
I've wanted to get this tour launched for quite some time, but needed to be patient as it required the rest of these tours to be created and launched together, for symmetry to be retained on my website.  Anyway, here it is, a tour that celebrates all that is World class about the food and drink that Devon is producing.
One thing I've learnt from having had so many international guests is that their initial perception is that British food is going to taste bland, probably having been boiled to death!  Possibly this stereotype that they have in their mind is based on a great deal of truth from previous decades, where the locals did not have a great deal of creativity about what was coming out of the kitchen.  However, that has completely and utterly changed now, and there is a huge food and drink industry in Devon that is really putting it on the map as a centre of gastronomic excellence.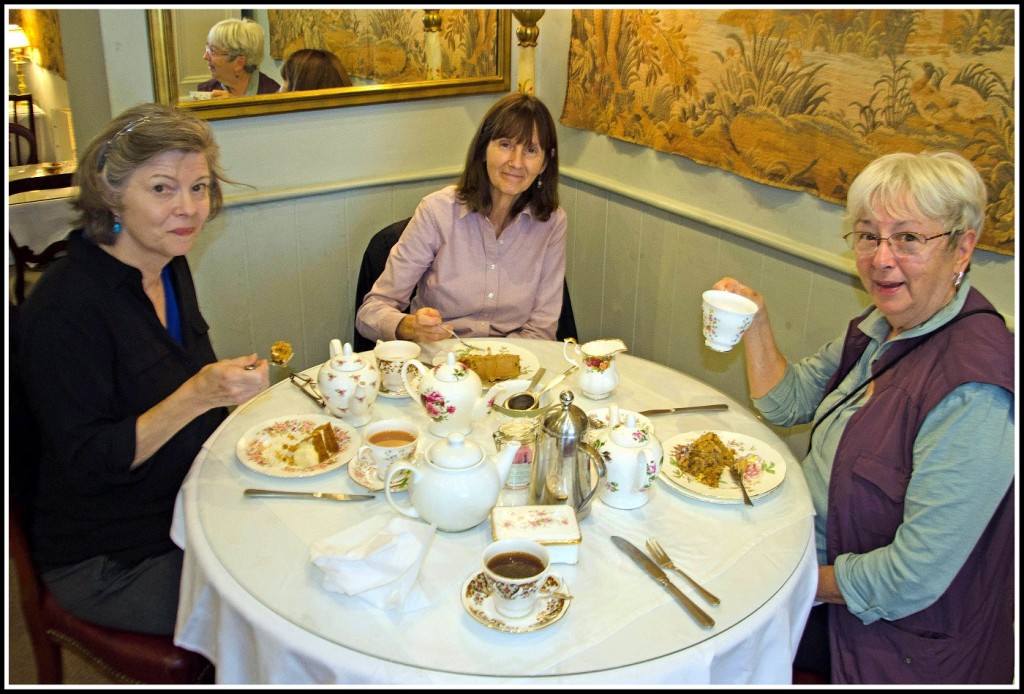 Guests tasting homemade Devon cake and tea!
So this new tour that I've created celebrates this excellence.  I have created a menu for my guests, a menu of places that we can visit during the day so they get an insight into this food and drink revolution that I have been describing.  From a gin distillery and/or vineyard, to a chilli farm and/or cookery class, there is plenty of choice, which I hope to expand upon over time.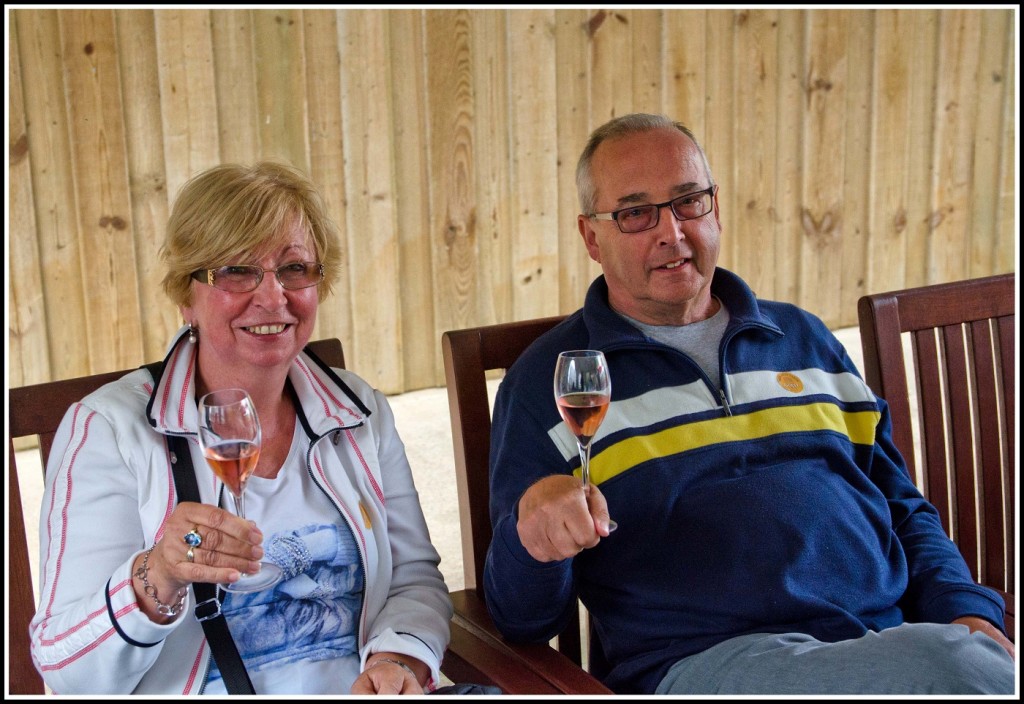 Guests enjoying a guided wine tasting at Sharpham Vineyard
Of course, it wouldn't be right not to enjoy a lunch that represents this excellence, so that will be factored in, perhaps at somewhere like my favourite 'restaurant with a difference' Riverford Field Kitchen, or the reliable celebrator of great seafood, Rockfish.  The choice is plentiful in Devon.  A traditional Devonshire cream tea might well be the perfect way to round off this wonderful day, should room allow.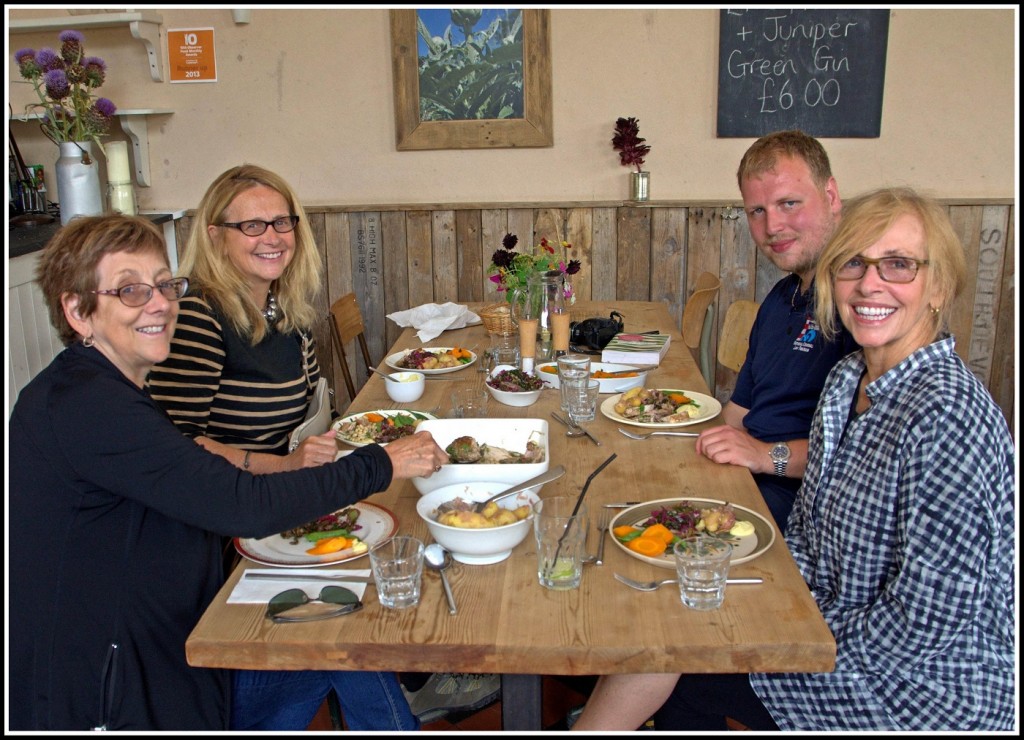 Guests loving the Riverford Field Kitchen experience
For further information about this tour, please look here, then prepare your taste buds for a great experience.
The Ghosts, Myths and Legends of Devon Tour
It's time to get spooked!  Where better to do that than in Devon, with history in abundance combined with hauntings aplenty and endless folklore tales, the origins of which are lost in the past?  This is much more than just a novelty tour, because during the day we get underneath the skin of some real history and legends that are very much based on real people and circumstances.  We step foot inside one ancient building after another, and see the tomb of an evil Squire and the grave of a suicide victim, all with their own ghostly tales.

Abandoned Churches and Tragic Stories
One of the things that I love about this tour that I've created is the variety of place that we visit during the day.  A castle that is over 500 years old, an inn that is over 800 years old, a church with a difference that again is over 800 years old, and then on to Dartmoor, where myth and legend almost seeps out of the ground.  Tales of witches, curses, and the Hound of the Baskervilles are told, and all the time in the surrounds of this beautiful landscape, that often holds a sense of menace due to its bleakness and overwhelming vastness.  It's a wonderful place, where my guests often comment on just how evocative it is, and just how much of a shiver they feel down their spine when they hear some of the stories that it has to tell.

Haunted Castles and Granite Tors
Well, I don't want to give any more away than I already have, so please have a look here for further information, and prepare yourself for a ghostly ride!
The Historic Buildings of Devon Tour
One of my favourite things to do when out and about with guests is to visit some of the magnificent and old buildings that Devon has, like the rest of the United Kingdom, in abundance.  I suppose it is the individual character of each place that makes them so fascinating – they all have their own stories to tell, just like any individual person, and when a visitor encounters one of these places for the first time, it can really surprise them just what an impact that initial meeting can make.
It makes perfect sense for me to offer this tour to my guests, especially considering how many of them come from 'newer' countries, such as Australia, Canada and the USA.  Buildings of great age are fascinating to travellers from these countries, where anything more than 200 years old can seem quite remarkable.  During this tour that I've created we can go to castles, cathedrals and houses that are at least 800 years old.  Some of them are still private family homes, with the ancestors of the original family still in residence.  They all have intriguing anecdotes, and at some of them I can arrange a private guided tour just for my guests, giving access to places that the ordinary tourist just can't to get to!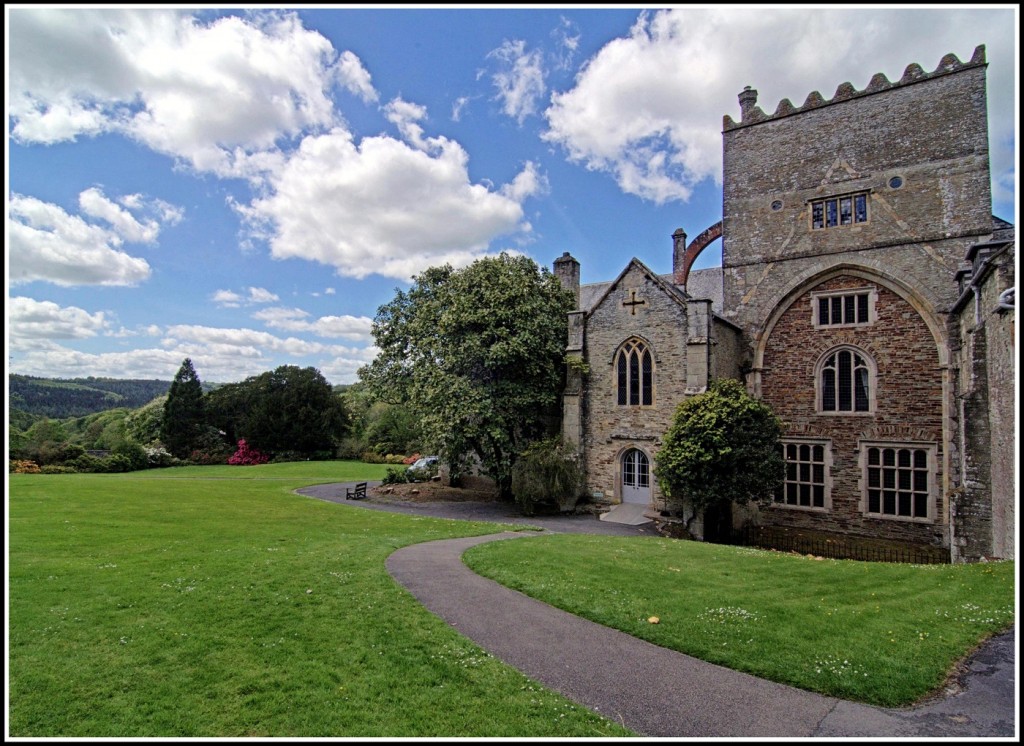 Buckland Abbey, home of Sir Francis Drake
This tour is very much about the interests of the individual traveller, hence it is a case of picking and choosing from the properties on offer to make it a logistically workable day.  But that's my job, to work with the guest to create a tailor made tour that works.
For more information, please look here, and feel free to ask if you have any questions about this potentially fascinating day out.
The Walking in Devon Tour
I'm a bit surprised with myself that this wasn't one of the first tours that I created.  After all, I have spent my life exploring Devon on foot, whether it be along the coast, through country lanes, or up on the high points of Dartmoor.  Anyway, after two years of being a tour guide, and having taken many guests on guided walks at their request, it is now time to offer this as an actual named tour.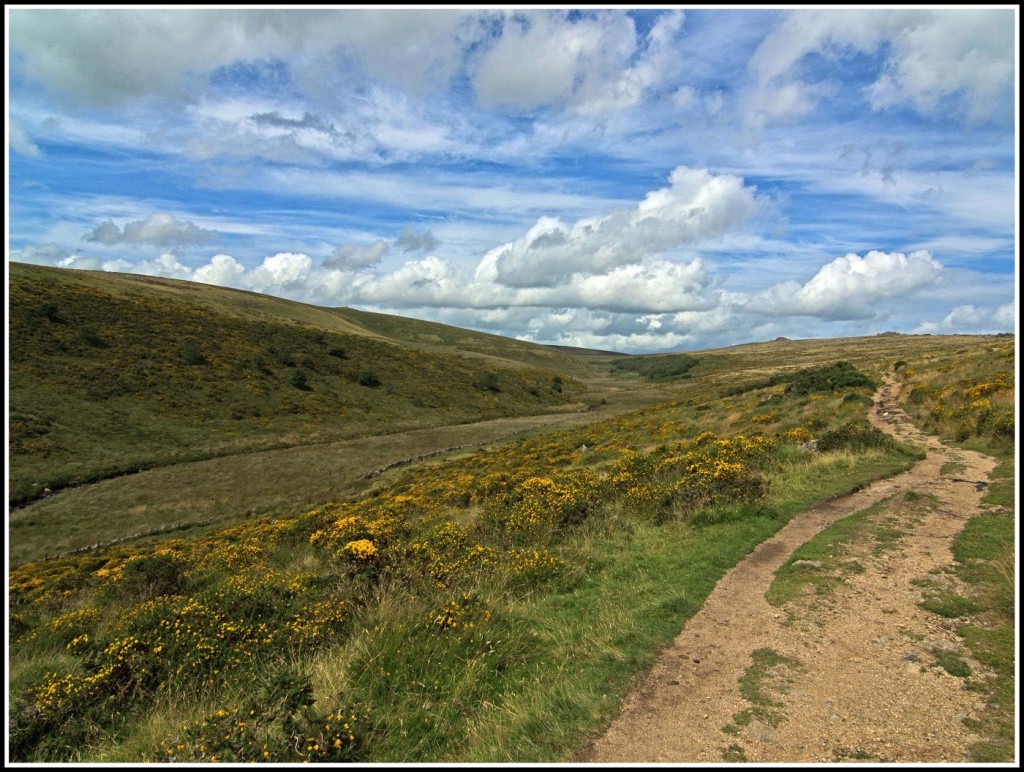 The track to Wistman's Wood, one of Dartmoor's many
Devon is, after all, an outdoor adventurer's playground, with such a huge array of open spaces, and footpaths that criss cross them.  We have two coastlines, both with a fabulous coastal path that runs right along their edges.  Dartmoor National Park is freely accessible to all, and offers a seemingly endless array of walks to do, some in pretty river valleys, some on open moorland, but nearly always with nature in abundance and history very evident.  I live in a small village, from which I can explore the lanes, woods and gently rolling farmland that is so typical of so much of Devon.  So we're spoilt for choice here.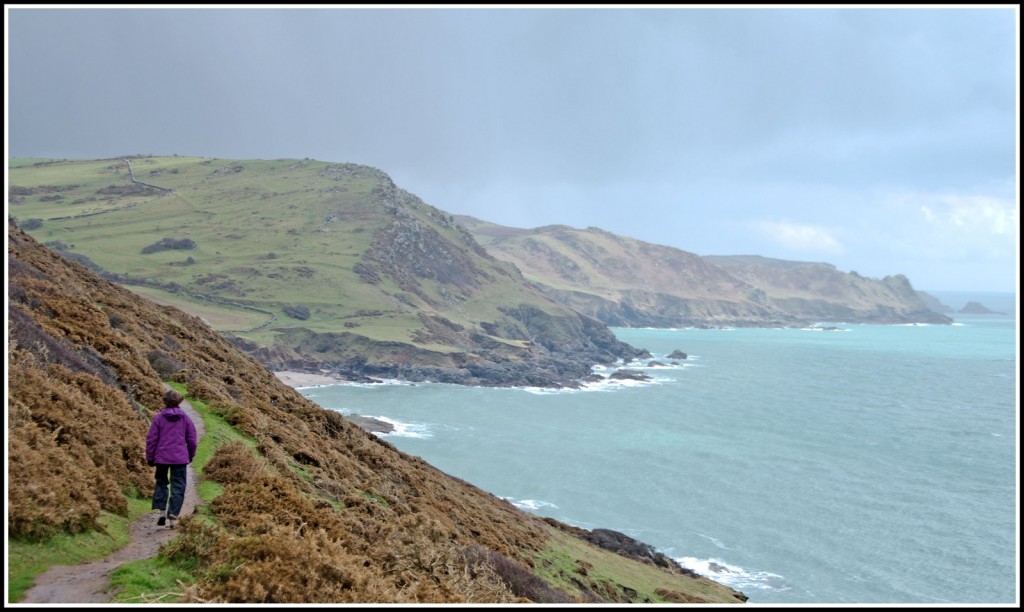 A previous guest walking along the South Devon coastal path
To find out more about this particular tour, please look here - the day can be tailored to suit the ability of the individual group, being as strenuous or gentle as you like.  I also make sure that my tours are enjoyable, so it won't be a route march!
Thank you for reading my latest blog article. Keep in touch by following Unique Devon Tours on my Facebook and Twitter pages. The articles will keep coming, so please keep an eye out for them. Happy New Year to all!