22nd April 2016
The West Country, in particular Devon and Cornwall, is famous for its food and drink.  Along with beautiful countryside, moorland and glorious coastline, the food on offer in the region is a big part of the draw that brings millions of tourists into Devon and Cornwall every year.   New enterprise, Cornish Hampers, is an on-line hamper company that is proud to share the delicious food and drink from the West Country with the rest of the UK.  They send cream teas and other food hampers from Cornwall as gifts throughout Great Britain.  Cornish Hampers have written this guide to some of the food traditions that Devon and Cornwall are famous for.  Given Devon and Cornwall's similar climates and ample farmland and coastlines there are plenty of specialities that both counties have in common, so it makes sense to write an article covering them both together.
The Cream Tea – A traditional cream tea, also known as a Devonshire cream tea or Cornish cream tea, is a speciality of Devon and Cornwall where a pot of tea is served with scones, jam and clotted cream.  The exact origin of the "cream tea" is disputed, but there is evidence that the tradition of eating bread with cream and jam started at Tavistock Abbey in Devon in the 11th century.  In Cornwall, the cream tea was traditionally served with a "Cornish split", a type of slightly sweet white bread roll, rather than a scone.  Nowadays the scones and clotted cream used throughout tearooms in both counties are very similar, and therefore the main difference is how you choose to have it.  In Devon, cream teas are served with jam on top of the clotted cream, whilst in Cornwall the cream goes on top.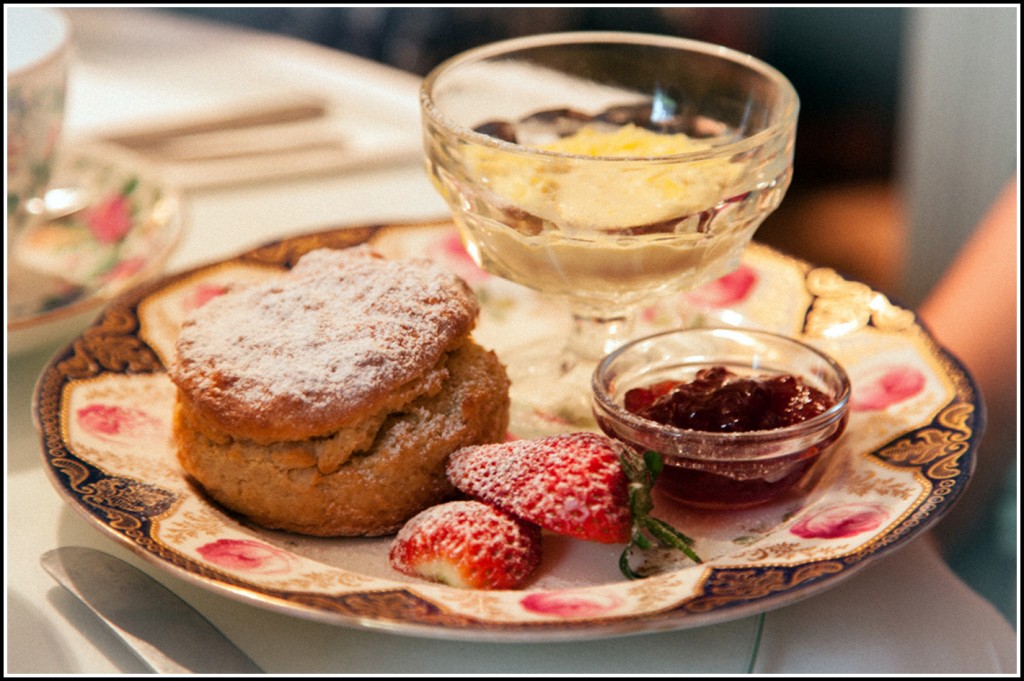 A work of art – a Devonshire cream tea
Clotted Cream – Clotted cream is a smooth, thick cream traditionally made in Devon and Cornwall by heating unpasteurised cow's milk that is left in a shallow pan for many hours causing the cream to rise to the surface and 'clot'.  Cornish clotted cream has been awarded 'Protected Designation of Origin' status, along with the likes of champagne and Parma ham.  Rodda's of Cornwall are the world's biggest producers of clotted cream but have remained a family run business since they began producing clotted cream more than 120 years ago.  The largest manufacturer of clotted cream in Devon is Langage Farm; they're the first UK Carbon Neutral Dairy with an Anaerobic Digester Facility generating electricity from food waste, which supplies the farm and dairy with its energy needs.
Seafood – With Cornwall being surrounded by the sea on three coasts and Devon being the only UK county to have two separate coastlines, it's no surprise that the region produces and consumes lots of fresh fish.  Rick Stein's seafood restaurant in Padstow and Mitch Tonks' Rockfish restaurants (in Dartmouth, Torquay, Brixham and Plymouth) do a particularly good job at promoting the area as one of the best places for 'straight from the sea' fish in the UK.  Take away fish and chips are particularly popular at seaside locations throughout the West Country.  Hanburys' Fish & Seafood Takeaway in Babbacombe, Torquay, has won a number of awards and is well regarded by locals and regular tourists as offering the best fish and chips around.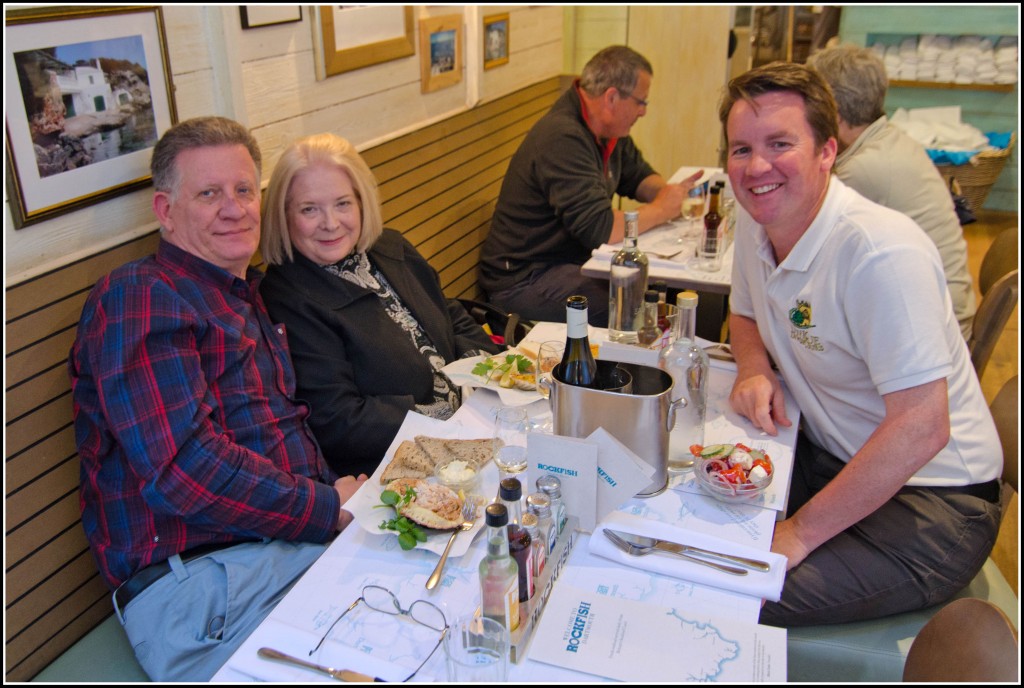 Fish and chips of the highest quality served up at Rockfish in Dartmouth
Cornish Pasty – Probably Cornwall's most widely known food, the Cornish pasty has always been a popular meal in the county.  In years gone by the pasty was the ideal lunch for Cornish tin-miners as it was seen as a complete meal that could be easily transported and consumed without cutlery, with some miners using the side-crimps as a handle that could be discarded.  Following the spread of Cornish miners, it became and still is popular worldwide, and in 2011 the traditional Cornish pasty was given 'Protected Geographical Indication' status in Europe.  The pasty is also common in Devon, with Chunk of Devon producing pasties and pies using ingredients sourced from with the South West.
Fudge – Handmade fudge is abundant in shop windows throughout Devon and Cornwall's coastal towns like Salcombe, Padstow, Totnes and St. Ives.  Local clotted cream is a key ingredient in fudge produced within the West Country.  Some tourist shops offer fudge in a mind boggling array of flavour combinations, with Christmas pudding flavour a popular one through the winter.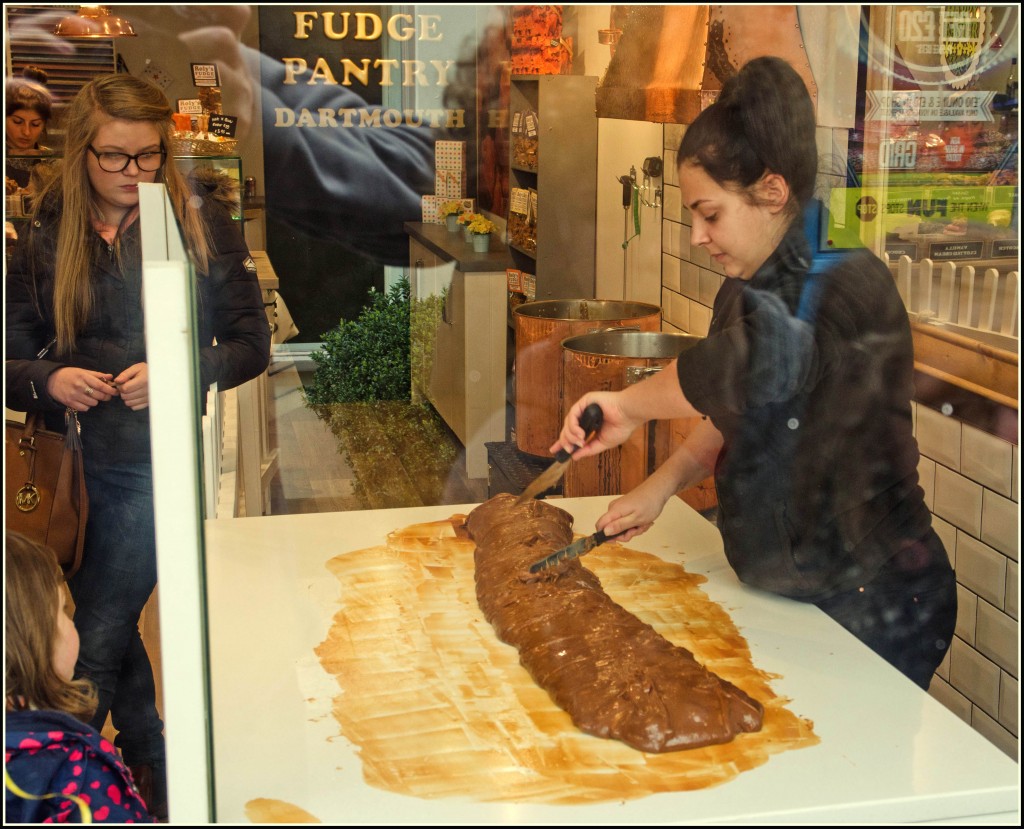 Fudge being prepared at Roly's Fudge Pantry in Dartmouth
Clotted Cream Ice Cream – Local ice cream is made using clotted cream.  It's a tradition that began in the region but has spread with many of the region's brands available throughout UK supermarkets.  Coastal towns in the county are all brimming with ice cream parlours; one of the best is Gay's Creamery in Dawlish who offer home-made clotted cream dolloped directly on top of the ice cream's they sell.
Cornish Fairings – A Cornish fairing is a type of traditional ginger biscuit commonly found in Cornwall.  The term 'fairing' originated from treats sold at fairs in the county.  Furniss in Redruth is well-known for manufacturing the biscuit, which it has been producing since 1886.
Cider – Cider is popular throughout the UK, with the world's highest per capita consumption of this alcoholic drink.  But it is especially popular in the West Country, where a lot of Cider companies set up their production facilities immediately alongside their orchards.  Cider produced in the West Country tends to be made using a much higher percentage of true cider apples and so is richer in tannins and sharper in flavour.  Scrumpy is a term used to distinguish locally made ciders in the West Country produced in smaller quantities and using traditional methods.  Scrumpy can be dry or sweet, and is usually still rather than carbonated, but may have some degree of carbonation.  Brands based in Devon and Cornwall include Hunt's Cider, Cornish Orchards, Healey's Cyder, Cornwall Cider Co, Sandford Orchards, Ashridge Cider & Winkleigh Cider to name a few.

A broad range of varieties offered by Hunt's Cider
Wine - English sparkling wine is now widely recognised as amongst the best in the world and the South West is home to a selection of award-winning vineyards and wineries. These include Sharpham, Old Walls, Lily Farm and Pebblebed vineyards, who offer guided tours and expert tastings all set in the beautiful Devonshire countryside.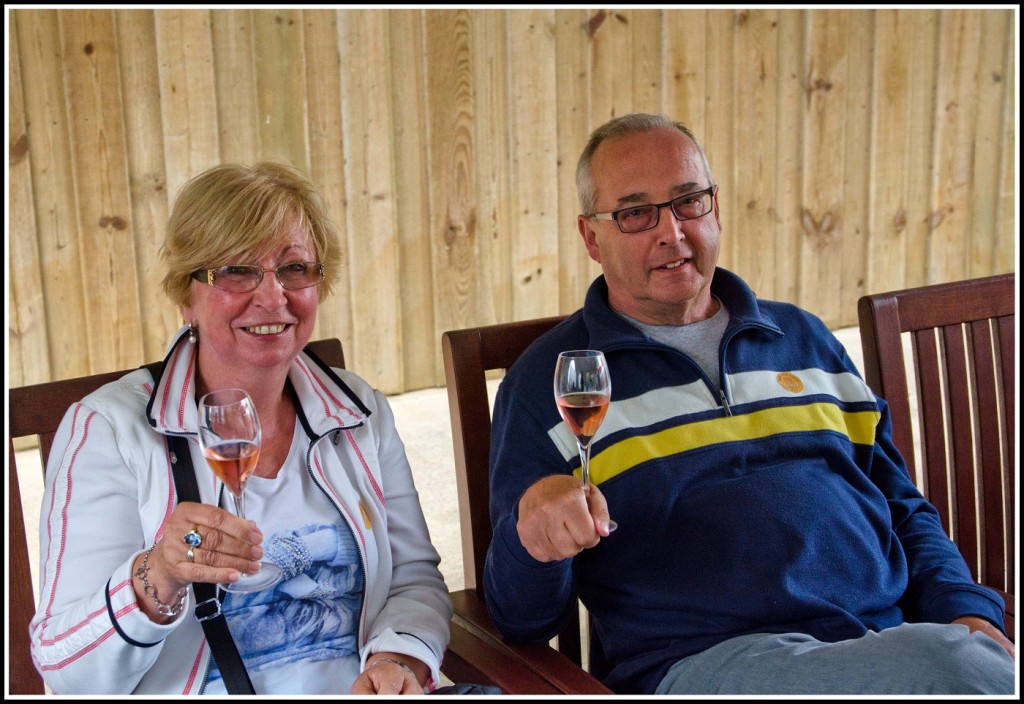 Guests of Unique Devon Tours enjoying some fine wine at Sharpham Vineyard
Brewing - Craft beer is on the increase in the UK with Devon and Cornwall home to a number of excellent local brewers.  Based in Princetown, Dartmoor Brewery is actually England's highest brewery at 1,465ft above sea level.  They use authentic brewing techniques and the finest local ingredients, including Dartmoor spring water and Devon malted barley, to produce award winning real ales.  Others include Hunter's Brewery, South Hams Brewery, St Austell Brewery and Sharp's Brewery to name a few.
Chilli Farms - Growing chillies is one of the more recent practices found in the West Country.  One of the best chilli farms in the country, recommended by Jamie Oliver, is South Devon Chilli Farm.  Established in 2001 they now plant around 10,000 chilli crop plants each year on their 10 acre farm in sunny South Devon.  Their shop and café is open to visitors all year round, with guided tours of the farm also available.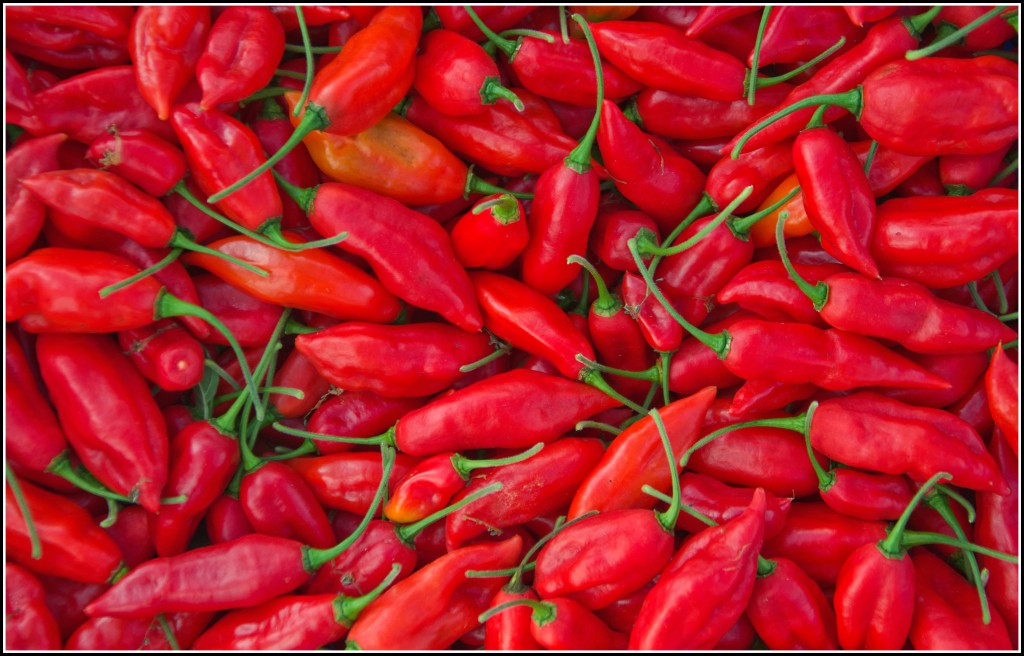 Chilli peppers grown at South Devon Chilli Farm
Cheesemaking - The West Country is blessed with plenty of Artisan cheese makers.  Quicke's have been crafting magnificent flavours of award winning cheese on their family farm at Newton St Cyres for almost five centuries.  Creating handmade cheese is a very sensory, tactile process and the best way to appreciate the quality of their products is to partake in one of Quicke's cheese tours.
Don't forget that award winning Unique Devon Tours offers a Devon Food & Drink Tour where you can visit some of the locations mentioned above and really get to understand the stories behind each product.